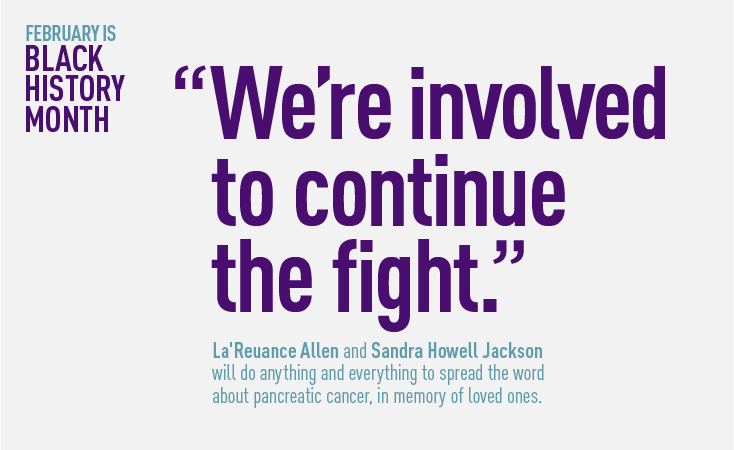 Editor's note: In honor of Black History Month, PanCAN is celebrating the contributions of our community's Black supporters and the incredible ways they're making a difference for pancreatic cancer patients.
"Amazing."
"Heartwarming"
Those were the words Sandra Howell Jackson and La'Reuance Allen used to describe their PanCAN family.
Both of their lives had changed in 2016, when Sandra lost her mom to pancreatic cancer, just shy of 11 months after diagnosis, and La'Reuance's dad – after whom she was named – was diagnosed with the same disease. He passed away just three months later.
The two women, who didn't know each other at the time, separately joined the PanCAN affiliate of volunteers in Charlotte, N.C. Now, they're working closely together in volunteer leadership roles – Sandra as the Affiliate Chair and La'Reuance as the PurpleStride Chair – to make progress and create community.
One of Sandra's key roles is bringing, and keeping, new volunteers on the team.
She remembers how, when she was fairly new to the affiliate, a local volunteer welcomed her with open arms. With the help of her volunteer family, Sandra is now doing the same for others in the area.
Survivor Robyn Hobson is one of them. "Sandra invited me to join a meeting, and in that one meeting, I instantly felt supported by these people I didn't know. They took me under their wing and made me feel welcome – and less alone."
Robyn quickly got involved, too, and is now the affiliate's social media co-chair and PurpleLight chair.
Sandra also updated the volunteer structure in their affiliate, with great results. "That was the glue that brought us together as one unified team," La'Reuance said.
In addition to filling important roles to ensure their affiliate's presence is strong in their community, La'Reuance and Sandra are leading by example to bring critical funds and awareness to the disease individually as well – especially in the Black community.
"Every opportunity I get, I am posting on my personal social media," Sandra said. "And as a part of our PurpleStride fundraising efforts, my family put on two Facebook Live fundraiser events and highlighted the impact of pancreatic cancer in the Black community."
Their team, Virginia's Purple Striders, raised nearly $7,000 in 2020 while building awareness of the higher incidence of pancreatic cancer among Black Americans.
Teeny's Mustang Gang, La'Reuance's PurpleStride team, has also been an outstanding contributor, raising $2,000 or more a year since joining in 2017. "I try to create my fundraiser that will appeal to the African American community to pull them in to learn more about pancreatic cancer. And I post the signs, symptoms and important facts regularly to my social media outlets."
"I admire La'Reuance's energy and passion for PanCAN," Sandra shared.
And these two amazing women are just getting started.
Their hopes for the future of this disease are lofty and important: Both want to see an early detection test and better outcomes. Sandra added, "I also pray and hope for a cure to this disease."
"We will do any and everything to spread the word about pancreatic cancer," La'Reuance said.
"I feel I'm making a huge impact," Sandra reflected.
Join the movement to create a better future for pancreatic cancer patients.
Get involved today
.