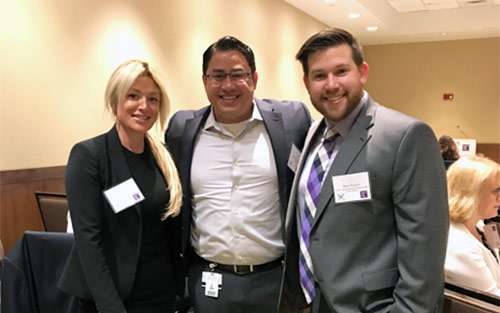 More than 40 supporters and fundraising champions gathered this morning at the Pancreatic Cancer Action Network (PanCAN) Boston leadership breakfast to kick off PurpleStride Boston, taking place on Nov. 5, 2017 at Boston Common.
PanCAN's leadership breakfast events take place across the country in an effort to engage community members, corporate partners and donors with PurpleStride, the walk to end pancreatic cancer.
At this morning's event, guests heard from PanCAN President and CEO, Julie Fleshman, JD, MBA; Tara Kent, MD, MS, from Beth Israel Deaconess Medical Center and Harvard Medicine; Brian Brandt and Marc Francis. Brandt – a member of our National Ambassador Circle, and Francis – a Boston Affiliate member – are two remarkable leaders who have raised more than $300,000 to fight pancreatic cancer.
"PurpleStride fundraising is critical to allow us to advance our mission and meet our aggressive goals," said Fleshman. "Your investment and commitment to PurpleStride is an opportunity to change a patient's life or allow a researcher to continue their critical work in early detection, a new treatment or even a cure."
Each year, more than 80,000 people in cities across the United States Wage Hope at PurpleStride, the walk to end pancreatic cancer. Funds raised through this signature event support services like Precision Promise, Know Your Tumor® and the Patient Registry.
You, too, can change the future of this disease. Register today for your local PurpleStride.