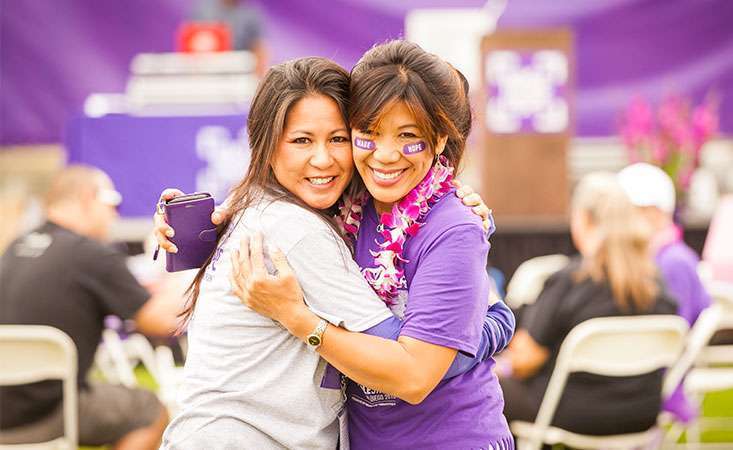 It's finally happening!
You can now fundraise for the Pancreatic Cancer Action Network's (PanCAN) PurpleStride – the walk to end pancreatic cancer – using your Facebook page! Even better, your progress will be tracked in both places, so you'll always know where you stand.
Here's how to create your PurpleStride Facebook Fundraiser:
Log in to purplestride.org to register for your event
Create your personal PurpleStride fundraising page
Go to My Strider Central
Click 'Connect to Facebook'
Once connected, your personal story and fundraising goal will carry over to Facebook. You'll have the opportunity to edit your story and add a cover photo on your Facebook fundraising page. (Please note: Any changes to either page will need to be done separately – changes made on one page are not automatically pulled to the other.)
You can use Facebook's fundraising tools, available on your fundraising page, to invite Facebook friends to your fundraiser, share it in your News Feed, copy the link to share via email, Instagram, Twitter – wherever you connect with your social network.
"This is something we've been talking about and hoping to do for a long time," said Wendy Moran, PanCAN's director of community engagement. "It's such a natural progression, since Facebook is such a part of our everyday conversation. We're thrilled to make this connection."
Creating a PurpleStride Facebook Fundraiser is a great way to reach your family and friends where they are – and to easily amplify your fundraising. And it's yet another tool for you, in addition to the PurpleStride app and personalized video feature.
Receipts and information for donations made on your Facebook fundraiser will be sent by Facebook to the primary email on the donor's Facebook account and will include PanCAN's tax ID to confirm donation.
Remember, you must start at My Strider Central on purplestride.org to connect your PurpleStride page to Facebook. If you start on Facebook to create a Facebook Fundraiser, there is no way to link the two pages.
Questions? Check out the Facebook Fundraisers FAQ in your PurpleStride profile or contact Customer Service at events@pancan.org or 877-272-6226.