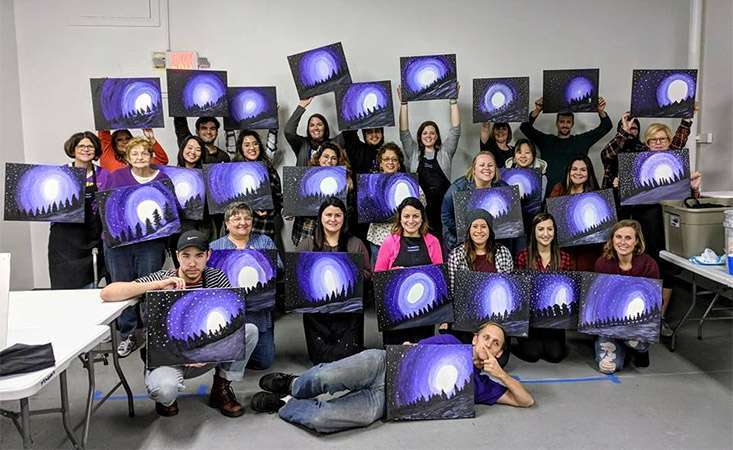 A pancreatic cancer diagnosis not only strips away one's health and well-being, it can also rob the patient and caregivers of their sense of security and control. That's why Allison Zalesny is fighting back $1 at a time.
"In 2016 we raised over $17,000. In 2017 we raised over $21,000," she said. "This year we plan to raise $25,000. It's a lofty goal but with support from the friends and family who loved my dad I know we can accomplish it."
Her dad, Steven, lost his battle against pancreatic cancer in March of 2016. Since then, Zalesny and her tightknit network of supporters have worked year-round to raise money for the Pancreatic Cancer Action Network for PurpleStride Chicago. The money this group, known as Team Papa Z, raises goes towards PanCAN's awareness, advocacy and fundraising programs that all seek to double pancreatic cancer survival by 2020.
"When we saw the five year survival rate jump to 9 percent in 2017, we saw our hard work pay off," she explained.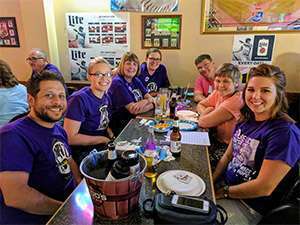 While Team Papa Z set a high goal for this year, Zalesny said that shouldn't intimidate others from setting smaller goals. After all, Zalesny noted that most of the donations she will receive for her $25,000 goal will be in the form of small gifts from family, friends and coworkers.
"All the money goes to a good place," Zalesny said. "It doesn't matter if you are giving $5 or $50, that $1 could change the whole game. The dollar goal is not important – it's about raising money and awareness. That's what's most important."
That's why Team Papa Z, and other PanCAN donors, offer this advice when it comes to organizing your own fundraisers:
PurpleStride – The Walk to End Pancreatic Cancer
Pound the pavement with PurpleStride.
PurpleStride events take place coast-to-coast, so finding a 5K near you should be fairly easy. When you sign up to participate, your registration fee goes directly to funding PanCAN's mission.
Start small but don't be afraid to dream big. 
Team Papa Z initially set its sights on raising $1,000 for the year. Once they garnered community support, the team increased its goal to $17,000 for year one. Now they hope to raise $25,000 in just 12 months.
Host a yard/bake/candy sale.
Aside from relying on others for donations, you can also come up with your own sales to raise money. Clean out your closets and have a yard sale. Whip up some treats in the kitchen and host a bake sale. Put out a donation jar and candy bowl at work for coworkers to get their sugar fix while raising money for a good cause.
Find community partnerships.
In July of 2016, Team Papa Z hosted a trivia night at a Chicago-area eatery. Not only did they raise a ton of money, the restaurant also did well with sales. This created a great relationship with the restaurant, so the owners invited Team Papa Z back over and over again.
Send emails through your participant center.
Did you know that on average fundraisers that send emails this way raise 216 percent MORE than others? Emails sent from your participant center will contain links back to your page, making it incredibly easy to ask friends and family for donations.
Make it a group effort.
Whether you're participating in a PurpleStride or doing Wage Hope My Way, consider forming a team. You'll provide each other with support, come up with donation ideas and make memories together.
Create a Facebook Page.
Team Papa Z created a team page that people can like and follow. It's there they can see when the team is having events and what the team's newest fundraising goals are.
Share your story.
Whether you're a survivor, caregiver or someone who is passionate about finding better treatment options for pancreatic cancer patients, remember why you started raising money. Then share that passion and your goals with your network.
Make a self-donation.
Yes, that's right! It turns out that participants that make a self-donation raise, on average, twice as much as those that don't.
Start a committee.
Team Papa Z has a committee of eight people who meet from time to time to discuss new ideas on what they can do to fundraise. Zalesny noted that it's a great way to see what connections you have that you didn't even know about. She also said it motivates your team to come up with new ideas.
Don't forget the thank you notes.
Writing handwritten notes thanking each donor is not only a great way to show your appreciation, it's also a way to keep your community engaged. Include how much money you raised and how those funds will make a difference for pancreatic cancer research, advocacy, awareness and programs.
Get your job involved.
Ask your boss if you can host a jeans day at work. The gist is that anyone who wants to participate will donate $5 or $10 and in return they can wear jeans to work. You can also keep a jar on your desk at work and put extra change in it. Make sure it says 'For PurpleStride, the walk to end pancreatic cancer.' Others will join you – watch it add up!
Ask your employer to match gifts.
As part of the benefits package, many employers offer matching contributions to non-profit organizations. Ask your employer if it will double your donation, or get the whole workplace involved to raise money and ask your employer to make a tax-deductible matching donation as well.
Ask, ask and ask again.
It sounds simple, but the #1 reason why people don't donate is because they were never asked.
Use and share your own personalized video.
PurpleStride participants will be provided with their own personalized video, a new online tool to help maximize fundraising efforts. This one-minute video features the participant's name, their fundraising goal, the person or people they are striding for, and asks the viewer to support your efforts by making a donation. The video can be shared on Facebook, Twitter, LinkedIn or via email straight from the participant's personal page.
There's an App for That!
Download our PurpleStride App for iPhone and Android to fundraise anytime, anywhere! Use the app to send pre-written emails to ask for donations and share on social media. It's fundraising right at your fingertips.
Personalize your page.
Make it easy for donors to support you by sharing your story. We've found that participants who do this raise over three times more than others.
Wage Hope My Way – Turn Passion Into Progress with DIY Fundraising
#WageHope your way.
Via Wage Hope My Way, you can set up a tribute, athletic or special occasion fundraising page to raise money. These pages are customizable so you can express your motivation for fundraising, your passions for fighting pancreatic cancer and updates on your progress.
Think outside the box.
People are generous when they are having a good time. Find reasons to throw parties and have get-togethers. For example, host a painting party or luau. And look at the calendar. During college basketball season, find a way to have a March Madness event, or in December, host an ugly sweater competition.
Put the fun in fundraising.
Come up with events – like bowling or trivia night – that people are already interested in doing. Add a $5 or $10 fundraising fee to the normal price and people will come out to support you because they know proceeds are going to a good cause.
Set up a memorial fund.
Honor a loved one who has recently passed away by asking people to donate to PanCAN in lieu of flowers. These donations keep your loved one's legacy alive long after a bouquet wilts.
Build on your year-over-year accomplishments. 
This team increased its donation goal by $4,000 between the first and the second year. Now they hope to raise an extra $4,000 in their third fundraising year.
Use your skills, make some money.
Perhaps you're a stellar photographer, or maybe you're staying home over that long winter or spring break and can pet sit. Whatever your skill, put it to good use by offering your services and putting the fees toward your fundraiser.
Facebook Fundraiser
Ask friends and family to donate in lieu of birthday or holiday gifts.
How many times does someone say they'll take you out to dinner for your birthday? Instead of taking them up on that, ask them to donate. Facebook allows users to set up fundraisers for their birthdays. Ask your friends to donate $1 or $5 to your cause. The average Facebook user has 338 friends. Even if only half of them participate in giving $5 a pop, you'd still raise nearly $1,000.
Meet face-to-face.
Social media and email make it easy to reach out potential donors, but don't forget to have that human touch when contacting friends, family and colleagues.
Sign up for your local PurpleStride – the walk to end pancreatic cancer – today!