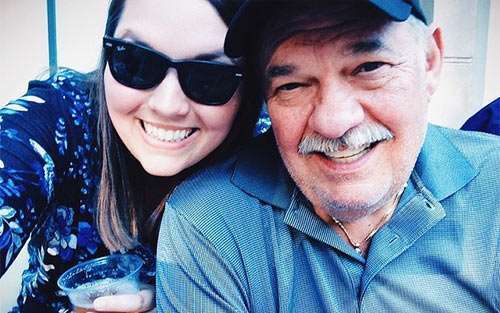 Allison Zalesny of Chicago talks about her inspiration to join the fight against pancreatic cancer and why fundraising for and participating in PurpleStride has been one the "best decisions she has ever made."
On Dec. 20, 2015, I woke up to a text from my mom saying that she was taking my dad to the emergency room. I didn't think much of it because she said he was having some stomach pain. They were at a Christmas party the night before so I figured he probably overindulged. When I arrived my mom and our family's best friends were already there waiting for me – waiting to give me the worst news. My dad had pancreatic cancer.
We left that day feeling cautiously optimistic.  We knew the diagnosis was not good but we had hoped that there would a lot of treatment options available.
The sad fact was that there wasn't.
My dad was too sick to receive additional chemo so we looked into clinical trials.  Ultimately, my dad decided to spend whatever time he had left eating, drinking, laughing and spending time with friends. I turned to the Pancreatic Cancer Action Network for support and shortly after, I found out about PurpleStride.
I didn't feel so lost anymore.
I approached my dad about PurpleStride in January of 2016.  My dad was by no means someone who liked to be the center of attention so I wanted to make sure I got his stamp of approval before creating a team in his honor. That day, I signed up for PurpleStride Chicago and created "Team Papa Z."
My dad passed away on March 27, 2016, and we participated in PurpleStride 2016 on April 30, 2016.  In three months my team raised over $17,000.The walk was an emotional and amazing experience and as soon as it was over I started planning for PurpleStride Chicago 2017.
"Team Papa Z" has come out in full force in 2017!  We started a committee within the team and began planning fundraisers we could hold throughout the year.  We hosted a White Sox patio party, a wine and paint night, a Super Bowl party, a bowling party and two wristband events at local bars to raise money.
We stride because we want to make sure that other people have a chance. We stride because a five-year survival rate of 9 percent is unacceptable. We stride because it's what "Papa Z" would have done.
Creating "Team Papa Z" has been one of the best decisions I've ever made.
Rewrite the future to end pancreatic cancer by participating in a PurpleStride near you!
In other related news, read more about how PurpleStride New York raised visibility and funds for the cause.