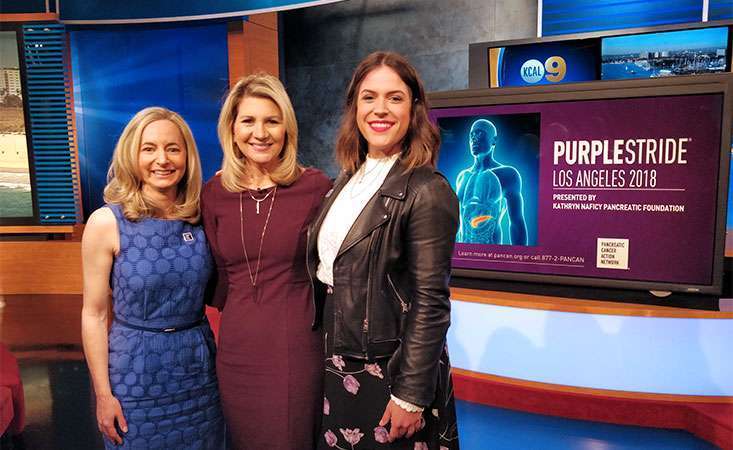 Julie Fleshman, JD, MBA, the president and CEO of the Pancreatic Cancer Action Network (PanCAN), and Erin Willett, the voice of "Hope's Alive," sat down with KCAL 9 news anchor Sandra Mitchell to shine the purple spotlight on pancreatic cancer. The pair talked about PurpleStride Los Angeles and the urgent need for greater awareness and funding for pancreatic cancer research and advocacy.
"Pancreatic cancer is the third leading cause of cancer death in the United States and the five-year survival rate is just 9 percent," Fleshman explained to Mitchell. "Coming out to PurpleStride is a way to take action to raise money and help us fund the critical research that is needed to end pancreatic cancer."
Both Fleshman and Willett lost their fathers to pancreatic cancer. Willett first partnered with PanCAN in 2012, just a few months after her father died. Her new song is in tribute to him and others who have faced pancreatic cancer.
"Our goal is to raise $1 million," Willett said. "I know it's a hefty goal, but you have to keep your eyes on the prize with something this serious."
Another topic of discussion – Willett's upcoming performance at the walk to end pancreatic cancer in Los Angeles on May 5. Willett, who starred on NBC's "The Voice" and "The Biggest Loser, sang the lyrics to "Hope's Alive." She, Elizabeth Russo and Tova Litvin penned the song. Russo's father is currently battling pancreatic cancer, and Litvin's mother is a survivor of the disease.
"It's important to spread awareness about the disease because early detection saves lives," Russo said. "I know my father would have had more options had it been caught earlier. So, I wanted to be a part of that change. That's why I am so proud of Hope's Alive. It's not only spreading awareness and hope for people fighting the disease, but also raising money to meet our goal of doubling survival by 2020."
Because Willett, Russo and Litvin have all been impacted by pancreatic cancer, the trio decided to donate 100 percent of proceeds from "Hope's Alive" to PanCAN to help improve patient outcomes and double survival by 2020. The song is available for download on iTunes, Spotify, Amazon Music, Google Play and Tidal.
"Listen, walk and sing along," said Sandra Mitchell while interviewing Fleshman and Willett.
Willett already performed the song at April's PurpleStride New York City and is slated to return to her hometown to sing at PurpleStride Washington, D.C., on June 9.
It's not too late to attend PurpleStride Los Angeles. You can register in person on May 5 at Exposition Park beginning at 7 a.m.
KCAL-TV is a gold sponsor of PurpleStride Los Angeles. News reporter Suzanne Marques will emcee the event.
Watch the full interview with Julie Fleshman and Erin Willett here.
PurpleStride isn't the only thing we do, but everything we do depends on it. Register or donate to an event near you today at
purplestride.org
.