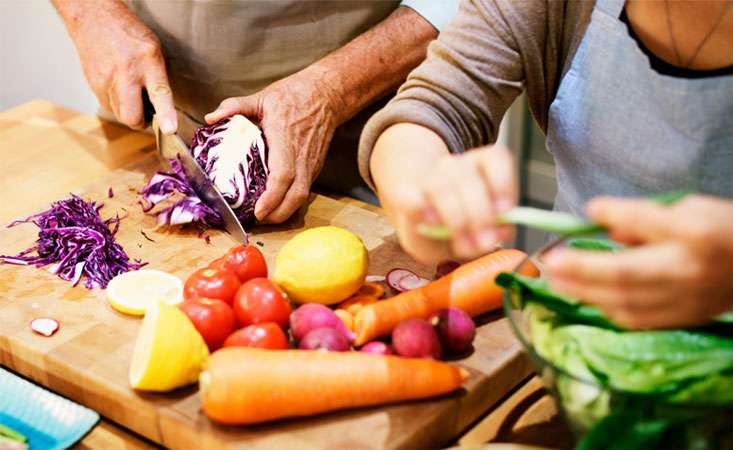 Food brings joy and comfort to people in ways that go beyond nutritional value. Home, family and a sense of history are often woven into the preparation of favorite meals. For many, food is a way to retain and remain connected to our cultural identity.
When patients are diagnosed with pancreatic cancer, they may feel overwhelmed by the changes that a cancer journey can bring. It is important for patients with cancer to maintain a level of normalcy and that includes eating foods that they enjoy and that have cultural significance for them.
Poor appetite is a common nutritional challenge for patients with pancreatic cancer. Sometimes surgery, prescription drugs or the cancer itself can decrease the patient's appetite or change the way food tastes. Weight loss, either from cancer treatment or the malabsorption of nutrients, is also common, as is diarrhea.
Despite these challenges, by modifying recipes to ensure patients can tolerate them, it's often still possible to prepare and enjoy traditional dishes that hold special meaning.
Here are some suggestions:
Try different cooking methods. For example, baking, roasting or poaching meat can be good alternatives to methods like grilling or frying that can make food more difficult to digest.
Using soy products like tofu, soy milk or edamame can retain the integrity of a dish while minimizing any adverse effects from dairy such as gas, bloating or diarrhea.
Steaming vegetables helps to retain nutritional value and alleviates symptoms related to gastric reflux.
Look for products labeled as whole grain rather than enriched. Enriched products have lost much of their nutrient value through processing and have less fiber, vitamins and minerals.
For patients at a healthy weight, consider 5 to 6 teaspoons of added oils daily. Healthy fats include olive, canola and peanut oils, nuts, seeds and nut-butters as well as olives and avocados.
Exploring culturally significant recipes with loved ones who have pancreatic cancer can bring happiness and comfort. By modifying ingredients and cooking methods, it's possible to continue to enjoy these delicious meals.
Consider options from USDA My Plate, a website from the U.S. Department of Agriculture, that offers healthy meal options from around the world. Their database is searchable by different cuisines, dietary requirements, preferred cooking equipment and more.
PanCAN's Cooking. Comfort. Care. Nourishment for the Pancreatic Cancer Fight Program also offers tips and recipes.
Good nutritional care improves outcomes and is critical for quality of life. PanCAN strongly recommends that patients have access to pancreatic enzymes and see a registered dietitian. Contact PanCAN
Patient Services
for more information.