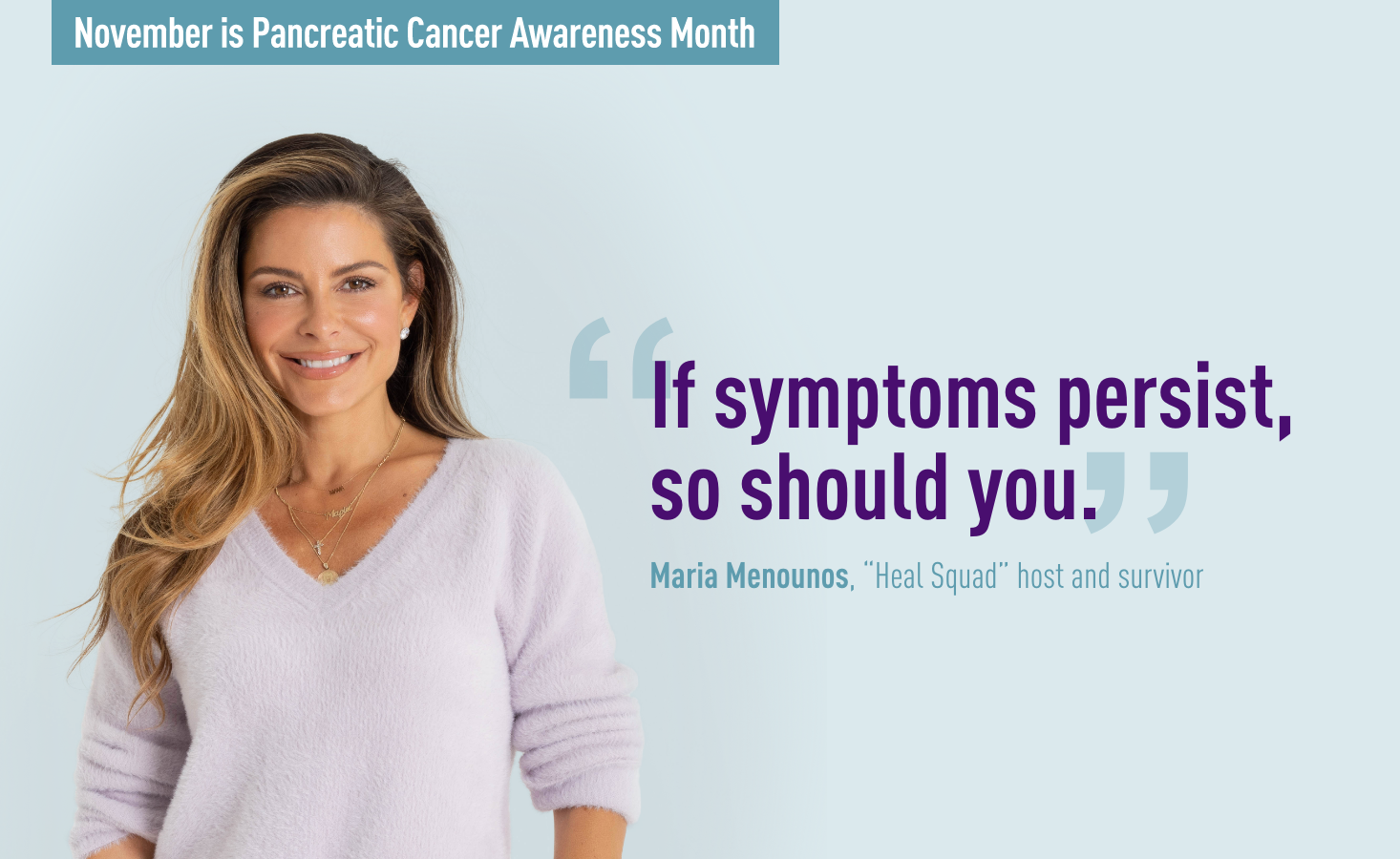 Editor's note: November is Pancreatic Cancer Awareness Month. Throughout the month, we are sharing stories to raise awareness of the signs and symptoms of the disease and the importance of early detection. Here, "Heal Squad" and Emmy Award-winning TV host Maria Menounos shares her own story after being diagnosed with a pancreatic neuroendocrine tumor.
"Heal Squad" and Emmy Award-winning TV host Maria Menounos knew something wasn't right. She felt bloated. She had recurring gastrointestinal issues like stomach pain and diarrhea. But doctors couldn't pinpoint any cause for her distress.
She kept at it anyway – documenting her symptoms, finding specialists, asking questions ­– firm in the belief that no one knew her body or her health like she did. Eventually, she found her way to a diagnosis: a pancreatic neuroendocrine tumor. Also called a PNET or PanNET, this rare form of pancreatic cancer differs biologically and clinically from the more common diagnosis of pancreatic ductal adenocarcinoma (PDAC).
For Maria and her husband, it was particularly devastating news given the joy they were experiencing in their lives: After ten years of trying to conceive, they were having a baby via a surrogate.
They toggled between fear, anxiety and determination. Maria said there were moments when she doubted whether she'd be able to meet her daughter. They had tough conversations about their path forward, including what Maria envisioned for their child if she couldn't see her grow up.
This wasn't the first time Maria faced a serious health challenge – in 2017 she was diagnosed with a benign (non-cancerous) brain tumor and had surgery to remove it – but the PNET diagnosis hit them both, and especially her husband, hard.
"We've been together for 26 years, so he's been with me through everything, and he's an amazing caretaker," she said. "I'll tell you, this one really shook him."
Learn about
different types of pancreatic neuroendocrine tumors, including more about symptoms.

Still, they moved forward with the treatment plan, mustering as much optimism and hope as they could. She leaned on what she learned through her mother's own cancer journey. Although her mother passed away in 2021, Maria remembered how they drew strength from each other and their family. They focused on the positive.
"When my mom was diagnosed with stage IV brain cancer, I'm like, 'Mom, we're believing in hope and we're believing in miracles and we're believing in possibility,'" she said.
She took her mom's memory – and that commitment to hope – forward as she came to this next challenge in her life.
In February of 2023, Maria had surgery to remove the tail of her pancreas, spleen, 17 lymph nodes and a massive fibroid that was growing rapidly. The 10-hour surgery, although grueling, was a success.
Maria credits her early diagnosis – at stage II – and good prognosis to being in tune with her body and to her unwavering commitment to find answers. She urges everyone to know symptoms and warning signs, ask questions and seek out resources.
Know your risk factors. Have conversations with your healthcare team and make sure they hear you. Advocate for yourself.
"You have to talk to your doctors," Maria said. "You have to let them know about your history. You have to remind them of your history because they're super busy."
And above all, trust what your body is telling you.
"If symptoms persist, so should you," she said. "You must be your own advocate. It can save your life."