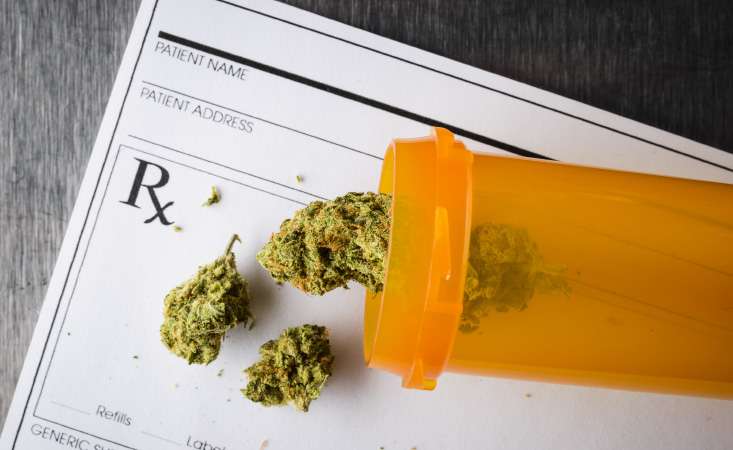 Cancer patients have reported finding pain relief and appetite stimulation from the use of medical marijuana, also known as cannabis. In fact, the Pancreatic Cancer Action Network's (PanCAN) Patient Services, which provides free, in-depth and personalized resources and information about pancreatic cancer, has received many questions about the use and effects of medical marijuana. For example, how is marijuana derived and how can it be used by cancer patients?
Marijuana is a plant that contains substances called cannabinoids. The cannabinoids found in marijuana plants may help treat the symptoms and side effects caused by cancer and cancer treatments. In addition to the naturally occurring cannabinoids found in marijuana plants, cannabinoid drugs have been developed in laboratories for use in helping to treat side effects and symptoms of cancer and cancer treatments.
The use of marijuana and cannabinoid drugs for medicinal purposes, such as controlling pain and stimulating appetite in cancer patients, have been and continue to be studied in the lab and in clinics. Consequently, conflicting information has been reported in clinical studies using cannabinoids as pain relievers or appetite stimulants for cancer patients.
Some studies have reported that patients regained appetite and sense of taste, while others reported cannabinoids are no more helpful than other prescription appetite stimulant medications. Likewise, some studies about pain relief report promising results, while others have shown cannabinoids are no more helpful than prescription medications for controlling pain.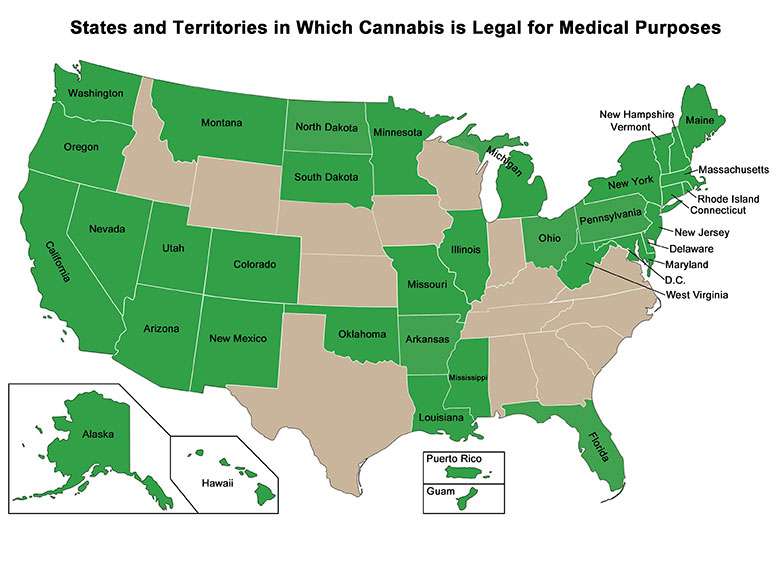 This map shows U.S. states and territories where marijuana is legal for medical purposes.
(Image courtesy of the National Cancer Institute.)
It is important for patients to speak with their doctor to determine if marijuana would be helpful in their fight against pancreatic cancer. According to Anne-Marie Duliege, MD, PanCAN's Chief Medical Officer, "Since there has not been sufficient data generated yet to produce consistent clinical results about the benefits of medical marijuana for patients, we encourage patients to discuss problems such as pain and appetite stimulation with their doctor to determine the right medications to help control such issues."
Patient Services often receives questions about how medical marijuana can be used when fighting pancreatic cancer. Here are five things to know:
What is marijuana? Marijuana is a plant grown in many parts of the world that makes resin-containing compounds called cannabinoids. Some cannabinoids are psychoactive, meaning they act on the brain to change mood or consciousness.
In which states is medical marijuana legal? 36 states and four territories have some type of legal medical marijuana program. Find out if it is legal in your state.
What are the active ingredients? The main active cannabinoid in marijuana is delta-9-THC. Another active cannabinoid is cannabidiol (CBD), which may relieve pain, lower inflammation, and decrease anxiety without causing the "high" of delta-9-THC.
How can medical marijuana be administered? Cannabinoids are available in a variety of formats. They can be taken by mouth as capsules, sprayed under the tongue, inhaled, used topically, or included as an ingredient in food and eaten.
Has the U.S. Food and Drug Administration (FDA) approved marijuana for cancer use? No, but the FDA has approved two cannabinoids (dronabinol and nabilone) for chemotherapy-related nausea and vomiting prevention or treatment.