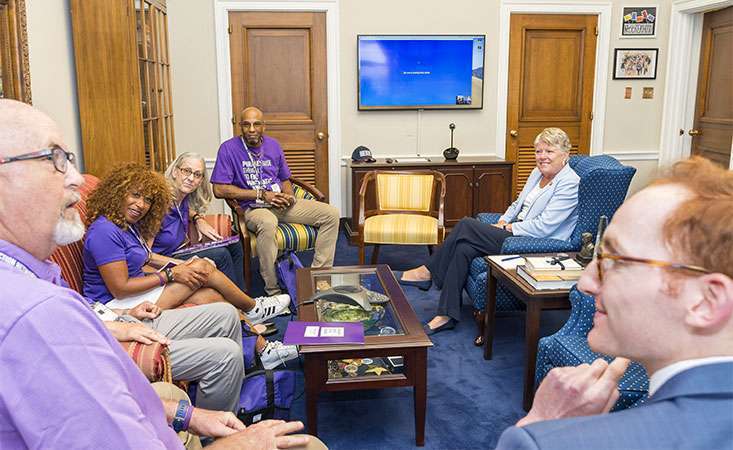 Today, the Pancreatic Cancer Action Network (PanCAN) joins the American Association for Cancer Research (AACR) and the medical research community for the 7th annual Rally for Medical Research National Day of Action. Approximately 350 organizations and institutions are uniting with one voice to urge Congress to continue to make funding for the National Institutes of Health (NIH) a national priority.
This effort helps to raise awareness about the critical need for robust, sustained and predictable budget increases for the NIH in Fiscal Year (FY) 2020 and beyond to improve patient outcomes and save more lives.
While a small group of representatives will attend congressional meetings in Washington, D.C., grassroots activities across the country play a key role in the success and reach of the annual rally.
We urge everyone in the pancreatic cancer community to take action today, and let your members of Congress know that medical research funding matters to you!
Medical research funded through the NIH, the largest source of funding for medical research in the world, has been a driving force behind decades of advancements that have improved the health of people throughout America.
After years of flat or declining funding, Congress has prioritized medical research at the NIH the last four years. PanCAN applauds Congress for providing a $2 billion increase for the NIH in FY19, and for passing the Labor-HHS-Education bill on time.
But there's still more to do. Robust, predictable and sustained funding for the NIH is an investment necessary to pursue the nation's commitment to lifesaving treatments, sustain the country's global leadership in medical research, and remain competitive in today's economy.
We are encouraging members of Congress to work in a bipartisan way to complete the FY20 appropriations process in a timely manner. Now that Congress is back from August recess, the U.S. Senate has begun to work on passing the 12 appropriations bills for FY20.
Because of its size and scope, the Labor-Health and Human Services-Education (Labor-HHS) appropriations bill is one of the Senate's top priorities. But it remains uncertain whether they can reach a deal before the current fiscal year comes to a close on Sept. 30.
If no agreement is reached by the Sept. 30 fiscal year deadline, a continuing resolution will be necessary to fund federal agencies and programs under the FY19 budget levels. Continuing resolutions are disruptive to the medical research system, as they introduce uncertainty into the process, and impose unnecessary delays on the pathway to cures.
Nearly 80 percent of all pancreatic cancer research funding comes from the federal government, which is why NIH funding is critical to developing new treatments and early detection strategies. Visit the Rally for Medical Research Action Center to join the campaign today.