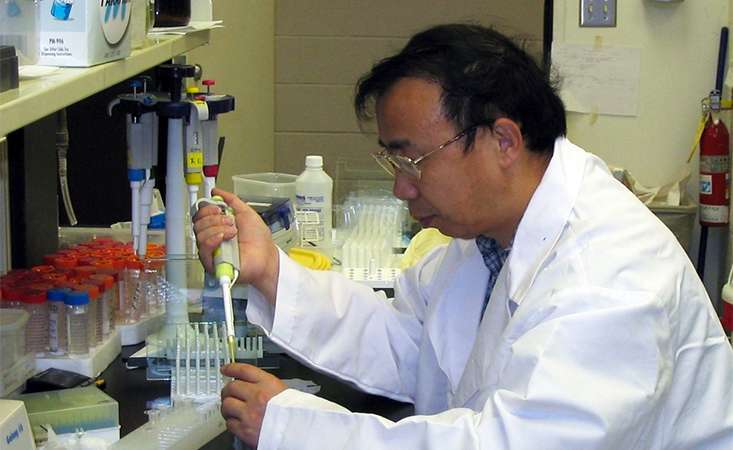 Editor's note: We recently announced the recipients of the Pancreatic Cancer Action Network's (PanCAN) 2020 research grants. Now we'd like to introduce you to each grantee to share what brought them to the field of pancreatic cancer research and what this funding means to them.
A few common themes have guided the decisions of Fengzhi Li, PhD: Find meaning. Do good. Stay focused.
In fact, whether the hardship faced is pancreatic cancer or the coronavirus pandemic, his advice to others is, "If you have a goal – whatever the goal is – never give up. Persistence is the key for reaching your goal."
Li was a high school biology and human physiology teacher before choosing to pursue his higher education and training at both the Institute of Microbiology (MS) and Institute of Biotechnology (PhD) in Beijing, China.
"This decision was not because I disliked teaching," he explained, "but I wanted to pursue my maximum potential to make more contributions to society and thus, make my life more valuable and meaningful."
Li's postdoctoral training at Yale University focused on basic cancer biology. Upon setting up his own laboratory at Roswell Park Comprehensive Cancer Center, Li sought a scientific focus that would be the most meaningful, with a potential to make a difference for cancer patients.
He was drawn to translational research – conducting experiments in the lab with direct opportunity for patient benefit. Specifically, his lab focuses on developing and evaluating novel experimental anticancer drugs, choosing to test them in pancreatic cancer.
"Since pancreatic cancer is the most difficult-to-treat cancer, we decided to use it as a model to evaluate our anticancer drugs," Li said.
The experimental targeted therapy that is of most interest to Li's group is called FL118. FL118 blocks the cancer cells' ability to avoid a certain type of cancer cell death, called apoptosis. His research group has shown that FL118 can induce pancreatic cancer cell death and eliminate pancreatic cancer patient tissue-derived tumors in mouse models.
Receiving his PanCAN Translational Research Grant felt like perfect timing to Li. "This funding will help FL118 move toward clinical trials aiming to benefit pancreatic cancer patients – especially those with advanced disease," he said.
And Li knows his PanCAN grant wouldn't be possible without donor support. "I greatly appreciate all the donors who allow PanCAN to fund research grants to fight pancreatic cancer."
And the best way to show gratitude to donors while also adding value and meaning? Joining them.
"In order to put my appreciation into action, I have now become a monthly donor, hoping to act as a brick for PanCAN to realize its goal and mission."
Donate today
– and consider becoming a monthly donor – to support the research efforts of scientists like Dr. Li.