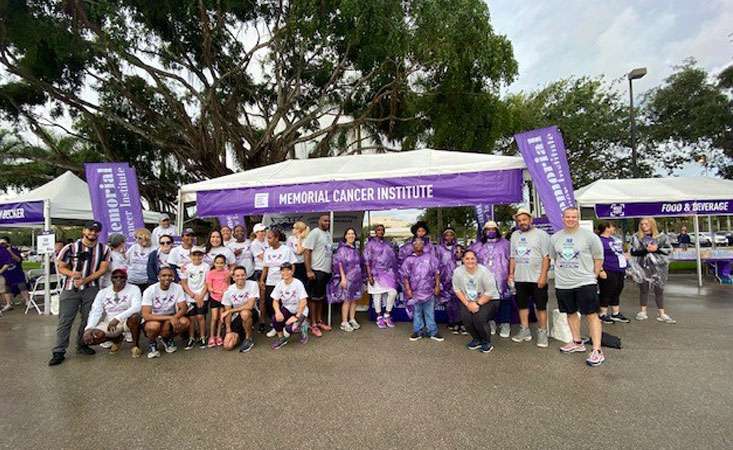 For Memorial Cancer Institute, it started with a patient's son.
Memorial Cancer Institute first sponsored PanCAN PurpleStride Broward-Palm Beach in 2013, thanks to a patient's son who is still an active PanCAN volunteer. The next year, and every year since, they have been the top sponsor for PurpleStride. For the inaugural PurpleStride One Big Day, Memorial Cancer Institute was Premier Sponsor for Broward-Palm Beach, with the event raising 117% of its fundraising goal. And PurpleStride Broward-Palm Beach had the #4 top fundraising team in the country – Team Becker, raising nearly $93,000.
"In over ten years of collaboration and participation with PanCAN PurpleStride, events and fundraisers, I find myself very grateful for PanCAN. " said Christopher Gannon, M.D., Chief, Gastrointestinal Oncology Program, Memorial Cancer Institute. "The advancements in pancreas cancer research, treatments, and patient advocacy can be largely attributed to PanCAN and all of the wonderful team members and volunteers.  From the informational booklets to the patient and family friendly website to engagement with clinicians, I am proud to be associated with PanCAN. "
Since 2013, Memorial Cancer Institute has recognized the importance of supporting PurpleStride to let patients, and the entire community, know they stand behind them. And equally important to Memorial Cancer Institute are research advances bringing better treatment options, and that those options are available to every pancreatic cancer patient in their community.
The team at Memorial Cancer Institute knows pancreatic cancer does not stop. They know that pancreatic cancer patients, survivors and their families and friends are committed when it comes to fighting this disease. Memorial Cancer Institute wants to encourage everyone, now more than ever, to continue to disseminate the message of courage and inspiration to continue fighting against this disease. The Memorial Cancer Institute PurpleStride team was definitely inspired this year, significantly exceeding their fundraising goal!
"At Memorial Cancer Institute, we make great efforts to place the patient first with our team approach to care," Dr. Gannon said. "This objective is shared by PanCAN. We were thrilled to gather – in person – with the rest of the nation on April 30th to shine a bright light on our efforts to fight pancreatic cancer and celebrate all of our brave survivors!"
There's still time to donate to
PanCAN PurpleStride
! You have until June 30 to make a gift to support PurpleStride and create a world in which all patients with pancreatic cancer will thrive.