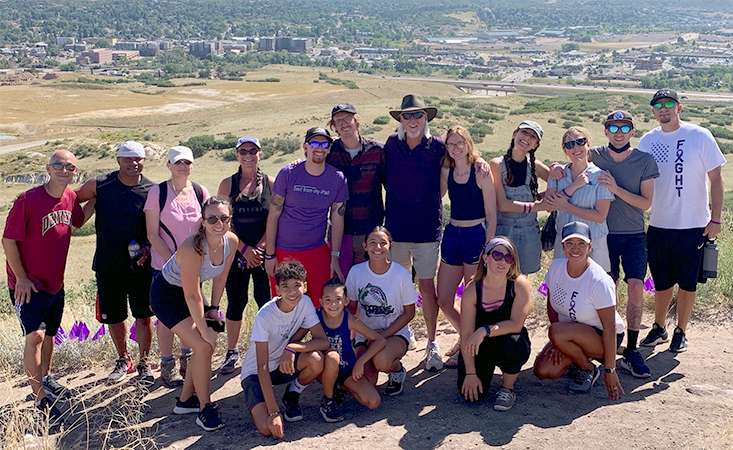 In August 2018, Tim Kissel's wife Leslie made the strenuous climb up the famous Manitou Incline in Colorado. The Incline, as it's known, is 2,744 steps, climbing more than 2,000 feet in less than a mile at a 68% grade at times – not for the faint of heart.
Three months later, Leslie was diagnosed with pancreatic cancer.
"I had no doubt Leslie would be able to climb this mountain, just like she climbed every mountain she faced," Tim said at the time. "But pancreatic cancer doesn't play fair. It doesn't recognize strength or desire or determination or the character of your soul. It didn't give Leslie a chance."
Leslie passed away in January of 2019, just seven weeks later. At the end of this month, Tim will make his own climb of the Incline at Castle Rock. Using Wage Hope My Way to raise funds for PanCAN in her honor, he had a goal of $2,744, just like the number of steps Leslie climbed. To date, he's exceeded his goal by 50%!
Tim carried a flag with Leslie's name on it and invited anyone to join his team, asking them to send a name for the other side of the flag.
Tim wrote on his Wage Hope My Way page, "Your flag does not need to be pancreatic cancer related – just anyone who deserves to make it to the top of the mountain."
"It is pretty easy to ask someone to donate to the cause, but what I wanted to do was recognize that everyone has a battle whether it is cancer, ALS, Alzheimer's, etc.," Tim said.  "Leslie's battle was pancreatic cancer. I wanted this climb to be about Leslie, but also about others who are facing or have faced a battle. It wasn't just about me; it was about everybody."
Becky Morales, long-time Colorado Affiliate volunteer, helped Tim to make the flags, 75 in total.
"The Leslie Kissel Castle Rock Incline Climb started out as just an idea from Tim, a man with a broken heart who was so empowered to honor his beloved wife, Leslie," Becky said. "It has been an honor to help Tim with this event. Although my contribution was small, the reward was enormous."
"It was both heartwarming and tear-jerking to see Tim's excitement as donations and names for the flags kept pouring in," she said.  "I am ever so proud to be part of this and hope it's the first of many more to come."
Nearly 30 people joined the climb, carrying their flags. At the top of the Incline, Tim and Leslie's children, CJ, Sam and Carly, planted their flags.
Tim began his deep involvement with PanCAN shortly after losing Leslie, when a friend made a donation in her memory. In addition to his activity with the Colorado Affiliate, Tim has been a Team Captain for  Team Leslie/Denver at PanCAN PurpleStride Colorado and participated in PurpleStride Los Angeles. Tim even stopped by the PanCAN National Office in 2019 when he was in town for PurpleStride Los Angeles. Tim has also visited the office of his Congressional Representative, Jason Crow, asking him to do more to fight pancreatic cancer and attended local town halls, pushing for more funding.
Tim plans to make his climb an annual event.
"Anything I can do to let people know how special Leslie was, I will continue to do," Tim said. " I don't want people to ever forget her."
"We cannot let pancreatic cancer win. We need to find it earlier. We need money for research. We cannot let this evil continue to destroy lives and families."
Join the movement to create a world in which all patients with pancreatic cancer will thrive.
Get involved today.