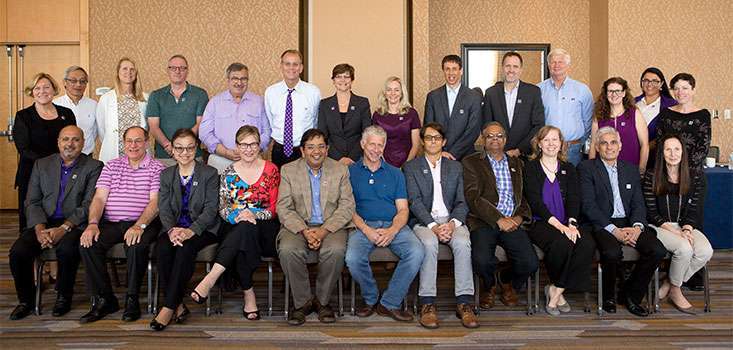 Editor's note: Today is National Doctors' Day, and we are celebrating the critical roles of various specialists in the diagnosis and treatment of pancreatic cancer patients, through the voices of our well respected Scientific and Medical Advisory Board (SMAB) members. Today's article is the third in our series, with a focus on medical oncologists and our chief medical officer. Please also see articles from earlier this week honoring gastroenterologists and pathologists and surgeons and radiation oncologists.
Medical oncologists coordinate patients' cancer care
Whether a pancreatic cancer patient is diagnosed with local, surgically resectable disease or advanced, metastatic disease, they will coordinate their care with a medical oncologist. Medical oncologists prescribe chemotherapy to patients, and they also recommend tests like molecular profiling to determine if the patient's biological characteristics align with particular treatment options, like targeted therapies.
Medical oncologists may also provide patients with information about clinical trials. Pancreatic cancer patients who participate in clinical research have better outcomes. Every treatment available today was approved through a clinical trial. The Pancreatic Cancer Action Network (PanCAN) strongly recommends clinical trials at diagnosis and during every treatment decision.
Learn more about medical oncology from Philip Agop Philip, MD, PhD, clinical professor of oncology at Karmanos Cancer Center and professor of medicine at Wayne State University School of Medicine.
"Largely because of the nature of pancreatic cancer as a disease, patients will require a systemic approach. The medical oncologist will direct systemic treatment – whether before or after surgery or as an upfront treatment for patients who are diagnosed with advanced disease and aren't surgical candidates," Philip said.
He continued, "We are part of a larger team, which includes surgeons, radiation oncologists, supportive care providers, pain management experts, radiologists, pathologists and more.
"Pancreatic cancer is a complex disease – it's important to remember that no two patients are alike. There is an art to delivering treatment that is tailored and personalized to the patient's disease status and treatment goals. An experienced doctor will be able to navigate options and address concerns during a patient's experience with the disease and will be well connected with a group of other medical professionals who are accustomed to dealing with pancreatic cancer."
And Philip emphasized, "We need to expand the range of drugs available to treat pancreatic cancer patients by increasing patient participation in clinical trials. The only way to bring new drugs to patients is through clinical trials."
PanCAN's chief medical officer works closely with healthcare professionals
Another proponent of clinical trials is PanCAN's chief medical officer, Victoria Manax, MD. Manax explains, "The role of a chief medical officer is to blend clinical excellence with compassion for the patients and communities we serve. PanCAN is an organization that stands for the patient and improving patient outcomes."
About PanCAN's Scientific and Medical Advisory Board, Manax said, "Our SMAB is composed of some of the world's greatest thought leaders in this disease. The SMAB members provide oversight and strategic direction to many of our clinical initiatives."
She continued, "Our SMAB members, and all the medical professionals working to make a difference in this disease, are a very unique community of individuals. It is a true honor to work with such amazing people every day."
To patients and caregivers, Manax stated, "It is important to seek the expertise from individuals who are most familiar with the latest scientific and clinical advancements. Therefore, referral to specialists or centers of excellence is highly recommended. It is also important to call PanCAN Patient Services as we are a resource to help maneuver you through your journey."
Please comment below to offer your support and gratitude to our SMAB and all healthcare professionals who dedicate their careers to studying, diagnosing and treating pancreatic cancer.
Contact Patient Central
for information and resources for patients and caregivers, including lists of specialists near you and a personalized clinical trials search.