Data recently released by United for Medical Research (UMR) illustrates the significant impact the National Institutes of Health (NIH) has on the nation's economy, currently supporting about 380,000 jobs. The data also underscores how NIH budget cuts proposed by the Administration would result in jobs lost across the country and be devastating to pancreatic cancer researchers and patients worldwide.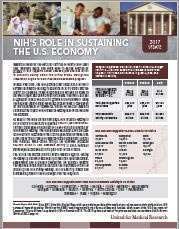 According to the UMR data, NIH supported approximately 380,000 jobs and $65 billion in economic activity across the U.S. in fiscal year 2016 and also provided just under $24.6 billion in extramural research funding to scientists in all 50 states and the District of Columbia. Importantly, the data notes NIH's economic impact increased significantly over 2015, due to Congress' passage of a $2 billion increase in NIH funding in 2016.
"UMR's new data exemplifies the fact that federal research funding is not just numbers but a matter of people's lives," said  Julie Fleshman, JD, MBA, president and CEO of the Pancreatic Cancer Action Network. "Proposed cuts to NIH funding would not only hurt local economies but would damage career opportunities for researchers, impacting our ability to find new scientific breakthroughs for years to come.
"At the end of the day, the real losers would be the patients and families who face our nation's toughest diseases who would be forced to wait even longer for the improved treatments and outcomes they deserve. Patients facing pancreatic cancer cannot wait."
Pancreatic cancer is one of the nation's deadliest major cancers with a five-year survival rate of just 9 percent. Ninety-one percent of people diagnosed with the disease do not live past five years.
"When the Pancreatic Cancer Action Network was founded in 1999, the five-year survival rate was just 4 percent, very little was known about the disease and virtually no pancreatic cancer research programs existed at nationally-acclaimed medical centers," describes Fleshman. "To build a research community and make meaningful progress for patients, our comprehensive strategy has focused on both privately funding pancreatic cancer research while also advocating for greater federal resources."
Since 2003, the Pancreatic Cancer Action Network has awarded 142 grants to 143 scientists at 55 institutions, totaling $35.4 million. Furthermore, the organization played an instrumental role in the passage of the Recalcitrant Cancer Research Act in 2012. This law required the National Cancer Institute (NCI), the institute at NIH charged with leading our nation's cancer research program, to develop and implement a national framework to advance key research strategies to improve outcomes for pancreatic cancer patients. With the scientific framework in place, the NCI has created new funding opportunities, along with new consortia, partnerships and task forces, to address the priorities. There is still much more work to be done, but the NCI has taken important steps that are advancing pancreatic cancer research with the goal of identifying effective treatments and early detection tools.
The Pancreatic Cancer Action Network's advocacy and research funding efforts are building a robust pancreatic cancer research community. There has been a 6.5-fold increase in the number of NCI-funded investigators doing pancreatic cancer research (28 in 1999 to 180 in 2015) and a 5.5-fold increase in the number of peer-reviewed pancreatic cancer publications (432 in 2000 to 2,375 in 2015).
"The synergy of private and federal funding of pancreatic cancer research has accelerated our understanding of the disease and built a  network of determined researchers focused on this disease," added Fleshman. "As the UMR data highlights, federal research funding touches all of us, and now more than ever, we must ensure that the strong foundation for innovation and progress is not knocked down, but built up. Local economies, research programs, and patients and families across our nation depend on it."
Learn more about our advocacy efforts and take immediate action.