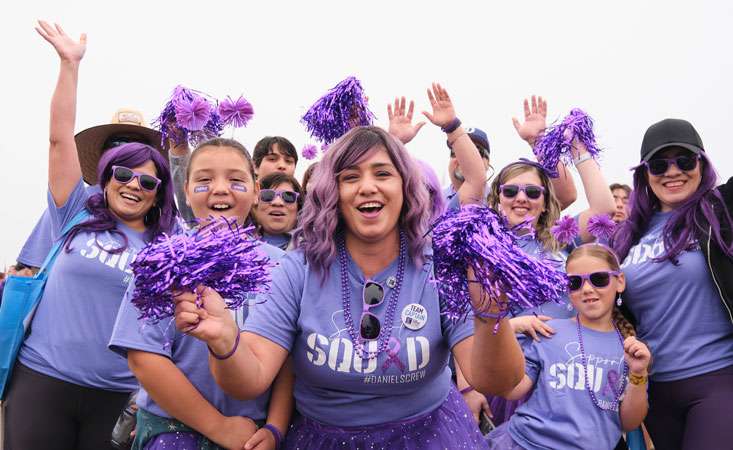 The journey of ending pancreatic cancer starts with a single step – yours! Registration for PanCAN PurpleStride, happening on Saturday, April 27, 2024, is open. At nearly 60 events taking place in communities across the nation, we're taking steps at our biggest fundraising event of the year, and we want to see you there!
Together, we can show everyone affected by pancreatic cancer that there are people in their corner fighting to further progress by participating in and raising funds for PurpleStride.
Whether you're thinking of registering for the first time or have taken strides with us before, you belong at PurpleStride. Meet and hear stories from pancreatic cancer survivors – we promise you'll feel inspired and hopeful. It's impossible not to when you're surrounded by a friendly community of like-minded Striders who understand and support one another.
And the impact! Since 2008, PanCAN PurpleStride has raised more than $150 million to fund research priorities of finding early detection strategies and accelerating treatment options, molecular testing at no cost through PanCAN's Know Your Tumor®, and offering free, personalized support and resources through PanCAN Patient Services. We're creating hope and that's important because a five-year survival rate of just 12% is not acceptable.
Team Captains are the heart of PurpleStride and you can make the greatest impact by registering as one! We'll provide you with all tools and support you'll need to make building and coaching your team easy.
PurpleStride is rain or shine, because nothing is stopping us from making a difference for pancreatic cancer patients. And if there isn't a PurpleStride event in your community, you can register for PanCAN PurpleStride USA, our nationwide virtual event where you, your family, and friends can take steps together from wherever you want and in any way you'd like.
You give hope with your PurpleStride participation and fundraising, so it's only fair we give you something back – something you can wear to PurpleStride!
Anyone who registers and raises a minimum of $50 will earn an official PanCAN PurpleStride 2024 T-shirt that can be picked up on event day. For those participating in PurpleStride USA, register and raise $50+ by April 7, and we'll mail you your T-shirt so it arrives before Saturday, April 27. Those who register and fundraise for PurpleStride USA between April 8 – 27 will have their T-shirts shipped in early May.
Pancreatic cancer survivors will receive a special Survivor T-shirt on event day (or mailed to them if they're PurpleStride USA participants), with no minimum fundraising required.
The top 10 teams as of Sunday, March 17, 2024, will be featured on the back of their event T-shirt. Teams that reach the Passion Team or Elite Team level by Sunday, April 7, 2024, will receive a sign customized with their team's name on it. Passion Teams will have access to an exclusive Passion Teams area on event day where they can gather and meet other teams who have also hit this status. Elite Teams will have their very own VIP area with a banner featuring their team's name and have a special giveaway on event day. Passion & Elite levels vary by event, so check out the Incentives & Deadlines page under your local event to learn more.
Those who register and raise $1,000+ will become a PanCAN PurpleStride Grand Club member and receive an exclusive Grand Club hoodie!
Creating a world in which all patients with pancreatic cancer will thrive starts with you. Your participation and fundraising make all the difference in ending the toughest cancer.
Click the REGISTER button below and follow our easy steps to join the PurpleStride event of your choice. Then set a fundraising goal, customize your personal fundraising page, and start asking your family and friends to support you!
We can't wait to take steps with you on Saturday, April 27, 2024, at PanCAN PurpleStride, the ultimate walk to end pancreatic cancer!