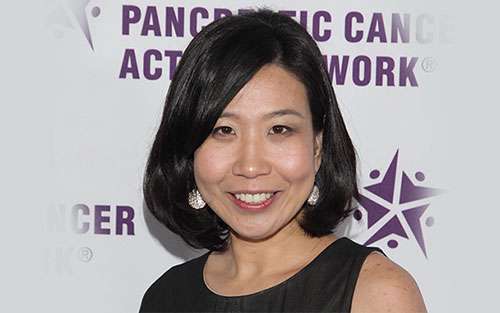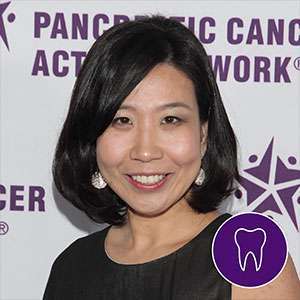 While missing teeth and poor dental health were previously believed to be associated with an increased risk of pancreatic cancer, no one was certain what was causing the association. In 2012, the Pancreatic Cancer Action Network awarded Jiyoung Ahn, PhD, The Daniel and Janet Mordecai Foundation Career Development Award to investigate the connection.
Dr. Ahn found that two specific species of bacteria in the mouth are associated with a more than 50 percent increased risk of pancreatic cancer. These two bacteria could potentially serve as biomarkers, or important biological clues, that could help detect pancreatic cancer sooner in patients. Likewise, this opens the possibility of studying whether efforts to reduce oral bacteria could decrease an individual's risk of pancreatic cancer.
Dr. Ahn's important findings have been published in several major publications and were featured at the 2016 and 2017 American Association for Cancer Research Annual Meetings. She leveraged our $200,000 grant to gather the data necessary to secure a prestigious $2.8 million federal grant from the National Cancer Institute (NCI).
Read more about Dr. Ahn's important work here.
Did you know?
Since 2003, we've awarded over $35 million through a competitive peer-reviewed process -- including 142 grants to 143 researchers at 55 institutions across the country.
Over our first decade of funding research, we supported 92 grantees who went on to publish 1,191 articles in peer-reviewed journals, cited more than 13,000 times. These grantees have leveraged each $1 from us to gain $8.28 in subsequent pancreatic cancer research funding.
New grantees will be announced in the summer of 2017. New grant opportunities open in fall of 2017.
May is National Cancer Research Month!
For National Cancer Research Month, we are highlighting some fantastic research advancements your support has helped make possible. What does National Cancer Research Month mean to you? Join the conversation online by tagging @PanCAN and using the hashtag #NCRM17!
Read more extraordinary research stories here!