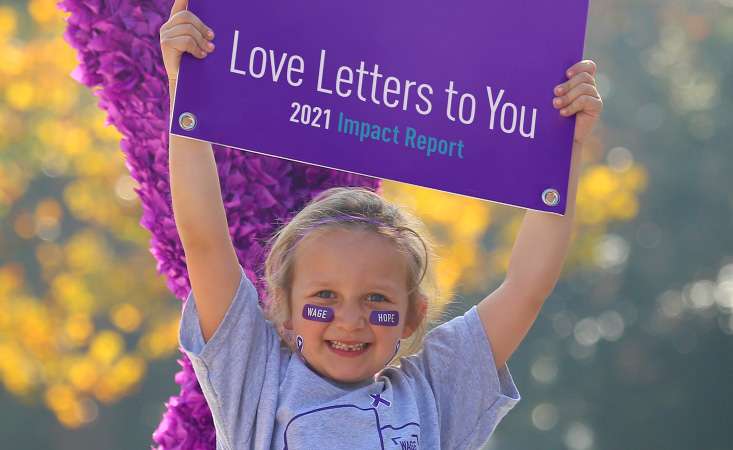 Dear PanCAN Supporter,
"Thank you for providing PanCAN and pancreatic cancer researchers the means to lead and help us achieve our goals. It means everything to us."
*
"We often hear people say PanCAN was a beacon in the storm for them when they or their loved one was diagnosed. That's so true. And so are you."
*
"I spoke with a PanCAN Patient Services case manager and thanks to them – and YOU – I found treatments that were right for me."
*
These are just a few excerpts from "Love Letters to You" – PanCAN's 2021 annual impact report.
This year's report is composed of letters written to you expressing gratitude for the immense impact you've made in the lives of pancreatic cancer patients and their families this year. Because without you, there wouldn't be a PanCAN.
PanCAN board member Lisa Kulok, who lost her mother Carol to the disease, narrates the report and takes you on a journey of the progress and hope you've created for those affected by pancreatic cancer.
This year, you advanced research, awarding 13 researchers funding. Their projects include targeting several key areas including PanCAN Precision PromiseSM, our Early Detection Initiative and diversity and inclusion-related research. To date, you've funded 218 grants to 203 scientists at 75 institutions.
You're giving patients more treatment options than ever before. All 15 Precision Promise clinical trial sites are open and five new sites are in the process of opening. And after expanding eligibility requirements, more patients from diverse communities now qualify.
Patients, caregivers and healthcare professionals had access to free, personalized support and resources through PanCAN Patient Services because of you. This past year, Patient Services was contacted more than 45,000 times. You're providing a hand to hold, clarity, hope and so much more and we can't thank you enough.
For the second year, you participated in PanCAN PurpleStride virtually – making the most of the event and raising nearly $9.4 million in incredibly creative ways. PurpleStride will be back in person on April 30, 2022, and we can't wait to see you there! (Speaking of, have you registered for free yet?)
You pushed for increased federal funding for pancreatic cancer research during PanCAN Action Week in June 2021, and collectively, made more than 12,000 calls and emails to Congress. To kick off our week of advocacy, close to 2,000 of you attended "Voices in Action," an evening of heartfelt stories and impact.
You did so much good this year and we're so grateful. And for everything coming up in 2022, to quote Alex Trebek, "We'll get it done!"
Warmly,
Your PanCAN Family
Donate today
to support PanCAN's vision to create a world in which every patient with pancreatic cancer will thrive.