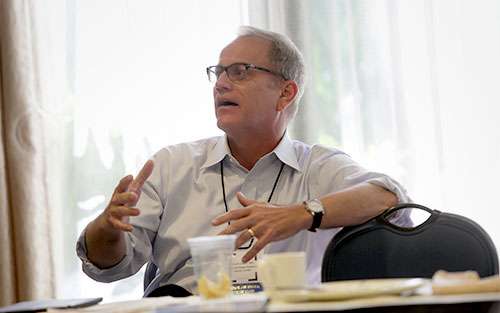 Downtown San Diego will be filled with purple people today through Sunday as the Pancreatic Cancer Action Network (PanCAN) convenes for its Annual Scientific Meeting, taking place alongside the annual Community Outreach Leadership Training (COLT) for volunteer leaders.
The scientific meeting brings together research grant recipients, current and emeritus Scientific and Medical Advisory Board (SMAB) members, members of the Precision PromiseSM working group, pharmaceutical industry partners and other special guests.
The meeting will kick off with a general session for all attendees, where Julie Fleshman, JD, MBA, PanCAN president and CEO, will call grantees, SMAB and Precision Promise partners on stage to be recognized for their incredible commitment to the pancreatic cancer community.
From the general session, Precision Promise participants will break off to attend a planning meeting for the remainder of the annual event, whereas a grantee track will be complete with presentations and discussions featuring the latest in research and clinical care.
The grantee track will highlight early-career researchers and their projects, with topics ranging from early detection to the role of metabolism in obesity-associated disease. Opportunities for discussion will allow senior investigators, fellow grantees and industry representatives to weigh in on the grantees' project aims and next steps.
Later this afternoon, all scientific meeting attendees will gather together for a facilitated networking session, intended to foster collaboration and to strengthen the Community for Progress of pancreatic cancer researchers.
Before the meeting concludes on Saturday afternoon, grantees will hear a story of survival from PanCAN Volunteer Advisory Council (VAC) member Matt Wilson, as well as a visionary update on Precision Promise from Diane Simeone, MD, chair of the Precision Promise Steering Committee.
Throughout the scientific meeting, PanCAN staff will be tweeting highlights from various presentations and sessions. Follow @PanCAN on Twitter to hear more about the latest in research trends and discoveries.