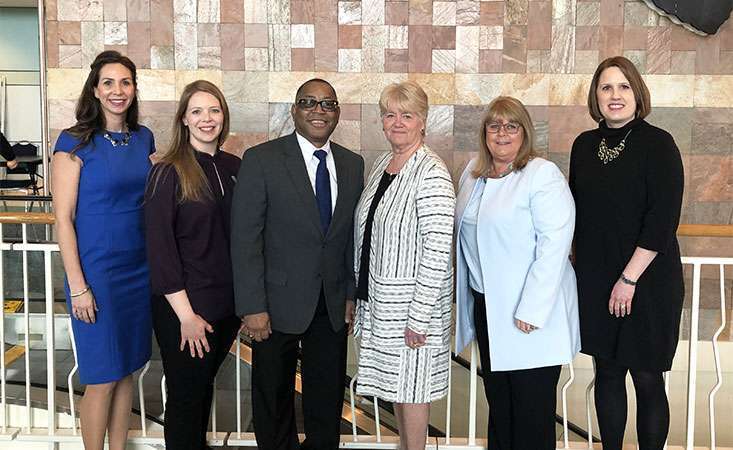 On April 3, the Pancreatic Cancer Action Network's (PanCAN) associate director of clinical initiatives, Cassadie Moravek, joined other patient advocacy leaders in a panel at the Hematology/Oncology Pharmacy Association (HOPA) Annual Meeting, HOPA Ahead 2019.
Designed to influence practice, the panel called, "The Oncology Pharmacist's Blind Slot: A Practical Roadmap to Patient Outreach," shared insight on patient outreach and support. The panelists discussed their organizations' support resources and how pharmacists and other healthcare professionals could partner with them in their shared goal to serve cancer patients and caregivers.
Moravek explained how PanCAN's PanCAN Patient Services provides one-on-one support to pancreatic cancer patients, caregivers and healthcare professionals. PanCAN Patient Services offers information on resources on a variety of topics, including clinical trials. And this fiscal year, PanCAN expects to run 15,000 trial searches for its constituents through PanCAN Patient Services and its pancreatic cancer Clinical Trial Finder, using the most comprehensive database of its kind in the United States.
In terms of caregiver support, Moravek explained that, in addition to providing education and information, PanCAN Patient Services can connect caregivers to PanCAN's peer-to-peer support service, the Survivor & Caregiver Network. The Survivor & Caregiver Network is made of volunteers across the country who have faced pancreatic cancer and can connect with and support others going through similar experiences.
"It was an honor to attend HOPA Ahead 2019 and exchange ideas and best practices in patient support with other attendees, including healthcare professionals and patient advocates," Moravek commented. "By working together to support cancer patients and caregivers, we will achieve our shared goal of improving patient outcomes."
Moravek encouraged the audience to reach out to PanCAN Patient Services and to share its contact information directly with any of the patients or caregivers they work with.
HOPA Ahead provides hematology/oncology pharmacists, at all levels of experience, with the education and research information they need to deliver the highest quality of care to their patients. The annual conference gives attendees an opportunity to discuss current controversies related to the screening and treatment of patients with solid tumors and hematologic malignancies, learn about new and emerging therapies for hematology and oncology patients and review recent developments in medical literature regarding hematology/oncology medications.