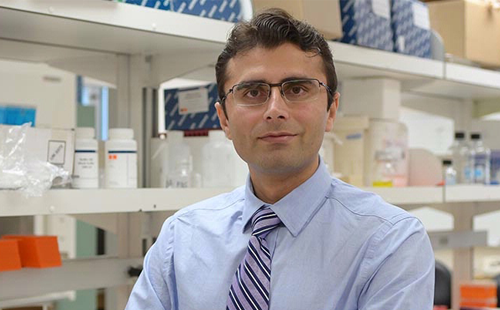 Researchers at the University of Nebraska Medical Center (UNMC) are making headlines and spreading hope thanks to their findings published in the journal Cancer Cell.
Pankaj Singh, PhD, professor in the Eppley Institute for Research in Cancer and Allied Diseases at UNMC, spoke to Omaha World-Herald, NTV News and WNAX 570 Radio about his team's work in understanding pancreatic cancer resistance to gemcitabine treatment.
Although gemcitabine is a widely used chemotherapy, many pancreatic cancer patients develop resistance to the treatment.
Singh's research shows a potential strategy to overcome the resistance and, in turn, improve patient outcomes.
"The idea really is that we want to make tumors respond to therapies," said Singh, who received our 2013 PanCAN Career Development Award that funded the project discussed in the pieces. "These combinations … are definitely not the cure but hopefully a step in the right direction."
There currently is no cure for pancreatic cancer. That coupled with no effective screening or early detection methods make it the world's toughest cancer – claiming 91 percent of its victims within five years.
PanCAN is committed to pioneering medical breakthroughs in pancreatic cancer and has made a significant impact in the field, investing an estimated $48.5 million in innovative research over 15 years. This year, we have invested $4.9 million to researchers across the country to accelerate progress.
Donate today to support leading-edge research and other critical scientific and clinical endeavors to end pancreatic cancer.