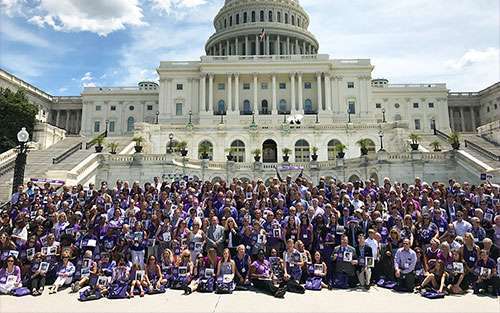 This morning, more than 650 advocates including over 100 pancreatic cancer survivors, stormed our nation's capital to urge Congress to make cancer research a national priority. Our president and CEO Julie Fleshman, JD, MBA lead the group to the to 'The Hill' for our 10th annual National Pancreatic Cancer Advocacy Day, the largest single national gathering of people committed to fighting pancreatic cancer.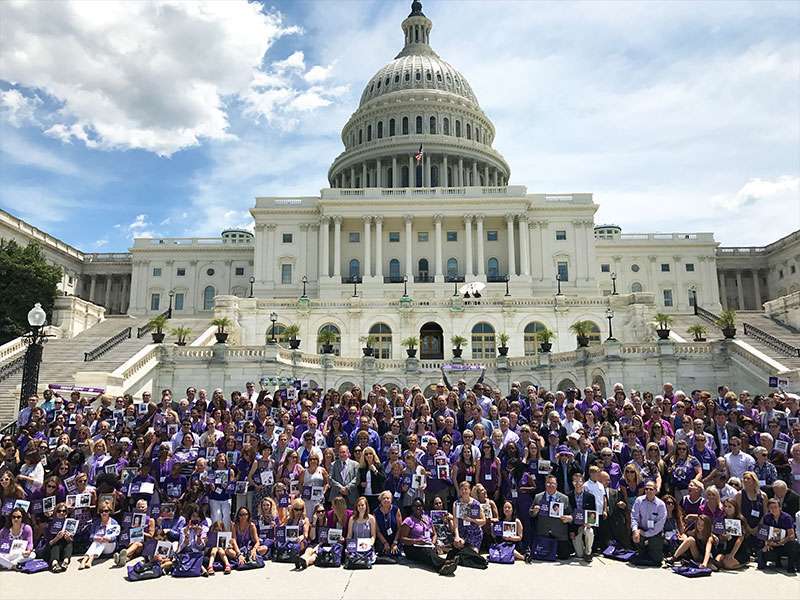 Pancreatic Cancer Action Network advocates raising awareness for pancreatic cancer on Capitol Hill
The time is now, more than ever, for us to protect investments from the National Cancer Institute (NCI) and National Institutes of Health (NIH). Proposed budget cuts to NCI and NIH funding would eliminate billions of dollars that could be used to advance research for pancreatic cancer patients nationwide.
Over the last decade, PanCAN has played a major role in increasing the NCI's research investment in pancreatic cancer from $17.3 million in 1999 to nearly $122 million in 2014 – a 600 percent increase.
Passage of the Recalcitrant Cancer Research Act in 2012 was the culmination of a five-year pursuit led by the organization's passionate advocates and volunteers and led to a scientific framework for pancreatic cancer, outlining national research priorities for the disease which has also led to increased research funding.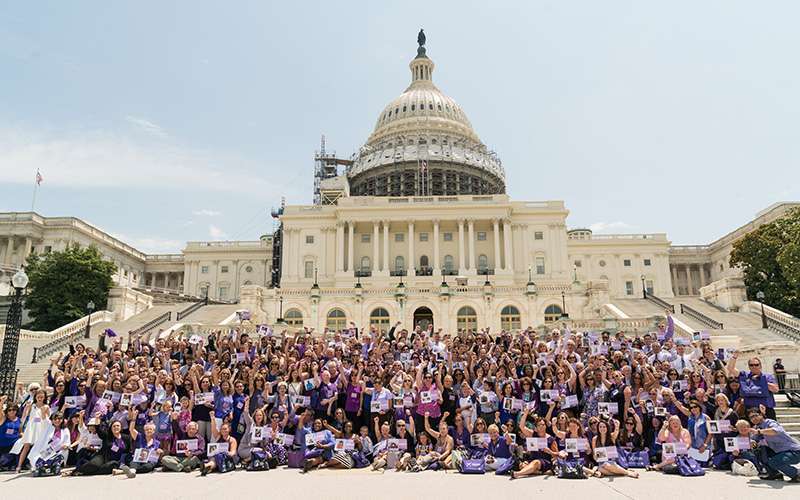 More than 650 PanCAN advocates including 100 survivors stand on Capitol Hill to raise awareness for the nation's toughest cancer in 2016
If you're unable to be on the Hill today, you can still use your voice and urge Congress to make cancer research a national priority by participating in the National Call Congress Day from 9 a.m. to 5 p.m. EDT.
You can also join in on Facebook, Twitter and Instagram for real-time updates from the Hill. Don't forget to use hashtags #PancAWARE and #WageHope.
To learn more about the Pancreatic Cancer Action Network's advocacy efforts read press release here and visit pancan.org.