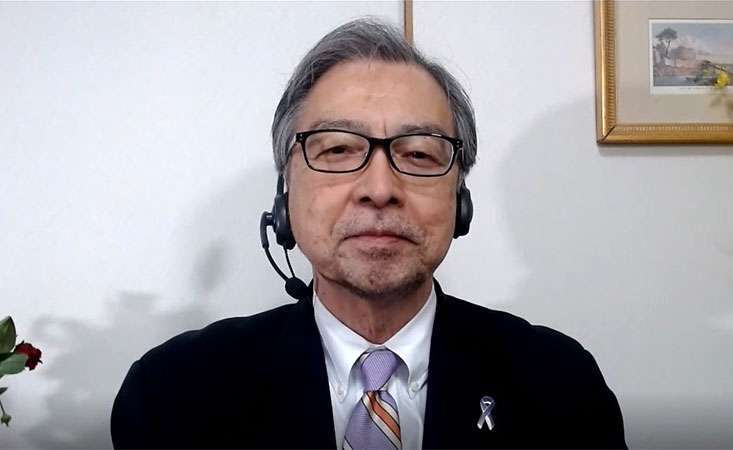 The American Association of Cancer Research (AACR) has awarded Yoshiyuki Majima, PhD, MPH, its prestigious Distinguished Public Service Award.
Majima is president of the Pancreatic Cancer Action Network (PanCAN) Japan affiliate, which was formed in 2006 in memory of his sister.
"It all started with the painful experience of losing my baby sister to pancreatic cancer," he said. "I still cannot talk about that experience without becoming emotional."
Like PanCAN in the United States, PanCAN Japan focuses on advancing research, supporting patients and creating hope for everyone affected by the disease. Being recognized by AACR with this award feels very fulfilling to Majima.
"This award signifies that our No. 1 mission of advancing research and related work in Japan is recognized by AACR," he said.
AACR presents its Distinguished Public Service Award to people whose "extraordinary work has exemplified the AACR's mission to prevent and cure all cancers through research, education, communication, collaboration, science policy, advocacy, and funding for cancer research."
PanCAN's president and CEO, Julie Fleshman, JD, MBA, also received this award in 2010.
"I am extremely proud of Yoshi and incredibly impressed by the progress he's made happen on behalf of pancreatic cancer patients in Japan," Fleshman said.
The feeling is mutual.
"It was Julie who helped me to propose to the PanCAN Board of Directors about establishing PanCAN Japan, so that we could start an international affiliate," Majima recalled.
"She was always a driving force. I am so lucky that I had a great leader and a mentor."
Some of PanCAN Japan's key accomplishments have involved getting drugs approved in Japan for pancreatic cancer patients, after approval in the U.S. and Europe. The laborious process entails gathering signatures and petitioning the Japanese government.
PanCAN Japan has also held PurpleStride and other fundraising events, allowing them to award research grants. Majima is also proud to have established a scientist-survivor program in Japan, modeling a program he's participated in through AACR.
"After 10 years of our work in Japan, I thought it was important to train research advocates who can carry on our torch to the next stage," he said.
Today, PanCAN Japan is taking on a new challenge: government advocacy for more pancreatic cancer research funding. "I handed our formal request papers to the Parliamentary Vice-Minister of Health, Labor and Welfare on June 1. This is a first step to getting more money for the pancreatic cancer research budget for next year."
Majima expresses deep gratitude to PanCAN and other members of the World Pancreatic Cancer Coalition for their support and guidance over the years.
"Without those organizations' leadership and help, our work in Japan would not be possible," he said.
"It is the organizational success of PanCAN in the United States that supported our work in Japan. Without its excellent work and reputation, nothing in Japan would be possible."