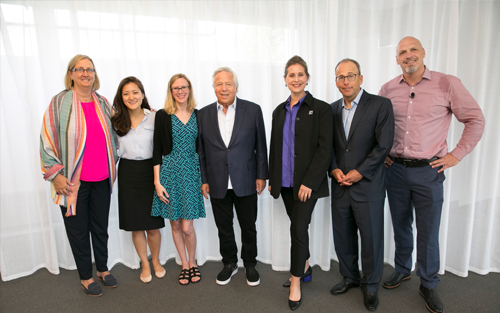 Last month, we shared news highlighting our Vice President of Marketing Jenny Isaacson, who currently sits on the committee for the HBS Kraft PM Accelerator initiative.
The collaborative group recently participated in a roundtable discussion at Harvard Business School (HBS). Attendees included Robert Kraft, founder, chairman and CEO of The Kraft Group and Jonathan Kraft, president of The Kraft Group, whose $20 million endowment at HBS has created the Kraft Endowment for Advancing Precision Medicine.
Individuals from the LUNGevity Foundation, the Metastatic Breast Cancer Research Alliance, the Multiple Myeloma Research Foundation and the Prostate Cancer Foundation, along with leaders from the business, medical, scientific, and technological communities participated in panel discussions. Conversations were focused on catalyzing patient movements in precision medicine.
Isaacson had the opportunity to share her expertise by participating on the "Making Progress in Engaging Patients" panel.
"We are collectively thinking about how we can help guide patients throughout their journey," said Isaacson about the group. "Our goal is to accelerate medical breakthroughs in precision medicine, but more patients are desperately needed in research to speed progress. This is something our organization is trying to accomplish through our patient services and clinical initiatives."
PanCAN provides more resources and speaks to more patients and caregivers than any other pancreatic cancer organization in the world. Our leading-edge patient resources include:
These initiatives directly help pancreatic cancer patients at all stages of their journey while also contributing to research.
To learn more about our organization's patient services mentioned here or for any other pancreatic cancer information, please contact PanCAN Patient Services.