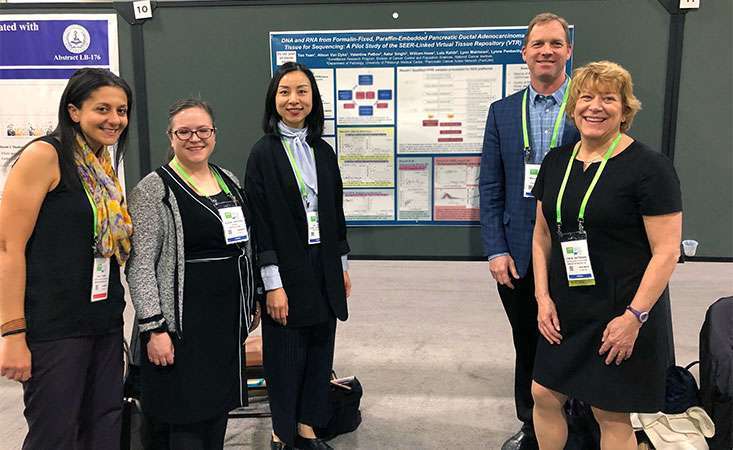 "I've been attending the American Association for Cancer Research (AACR) annual meetings for several years, and this year's conference was far and away the most exciting for pancreatic cancer research," said Donna Manross, vice president of Scientific and Medical Affairs at the Pancreatic Cancer Action Network (PanCAN).
"I was blown away by the volume and quality of pancreatic cancer-focused sessions."
This year's meeting, which took place March 31 – April 3 in Atlanta, was attended by approximately 18,000 researchers and clinicians from around the world, all focused on cancer research.
In addition to Manross, other members of the PanCAN team were there, including president and CEO, Julie Fleshman, JD, MBA, and chief science officer, Lynn Matrisian, PhD, MBA, a past AACR president and inaugural member of the elite Fellows of the AACR Academy.
The meeting's opening day included a Presidential Address from AACR's outgoing president, Elizabeth (Liz) Jaffee, MD, the Dana and Albert Broccoli Professor of Oncology at the Skip Viragh Pancreatic Cancer Center of Johns Hopkins School of Medicine. Jaffee is an emeritus member of PanCAN's Scientific and Medical Advisory Board (SMAB).
Congratulations Dr. Jaffee @HopkinsMedicine for serving as @AACR President and thank you for your incredible research efforts in #PancreaticCancer! @PanCAN #AACR19 pic.twitter.com/efNHFyQKch

— Julie Fleshman (@JulieFleshman) March 31, 2019
Entitled, "Turning the Heat up on Pancreatic Cancer: Lessons on Overcoming a 'Cold' Immunologic Micro-environment," Jaffee's presentation focused on immunotherapeutic approaches to treat patients with pancreatic cancer.
"What better way to start a talk than to say that our field of immunotherapy is really undergoing a revolution," she began. "And what better way to celebrate that than to give the Nobel Prize to two of our members – Jim Allison and Tasuku Honjo – for efforts targeting immune checkpoints."
Jaffee went on to explain why some types of tumors, and some subtypes of tumors, respond particularly well to immunotherapy, while others, like pancreatic cancer, are notoriously immunologically "cold."
Jaffee touts a precision medicine approach, combining genetic analysis of the tumor tissue with investigation of the immune-stimulating and immune-suppressing cells found in the tumor's surrounding microenvironment, to determine the best treatment strategy to benefit each patient.
Another immunotherapy approach for pancreatic cancer patients that received attention at the meeting and the media was presented by Robert (Bob) Vonderheide, MD, DPhil, director of the Abramson Cancer Center at the University of Pennsylvania.
I am not at #AACR19 (yet) but even remotely it feels like there's been a lot more than the usual number of talks/sessions in #PancreaticCancer this year (including the Presidential address by @AACRPres in ~30minutes).
What do folks in Atlanta think? https://t.co/6qLLLQDSJt

— Anirban Maitra (@Aiims1742) March 31, 2019
Vonderheide is also an emeritus member of PanCAN's SMAB and described early results of a clinical trial based off work initially funded by a $1 million Research Acceleration Network Grant awarded by PanCAN and funded by Tempur-Pedic in memory of Tim Miller.
In an email to Fleshman and Matrisian last year, Vonderheide asserted, "As we look forward to beating this disease, it's important to look back and see how far we have come. Many thanks to PanCAN for its vision.
"What an impact and much more to come."
In addition to more overall representation of the disease than ever before, two sessions were devoted to pancreatic cancer: Features and Functions of the Pancreatic Tumor Microenvironment and Advances in Pancreatic Cancer. Speakers included PanCAN research grant recipients Cosimo Commisso, PhD, Marina Pasca di Magliano, PhD, and Florencia McAllister, PhD.
It's a packed house here in the #pancreaticcancer session at #AACR19. More people interested in pancreatic cancer research than ever. The future is bright! #cancerofourgeneration pic.twitter.com/kZUMGPfxvj

— APGI (@APGI_Oz) April 1, 2019
"It's so exciting to see PanCAN's research funding cited during so many of these prestigious talks," Manross said. "We're definitely fulfilling our goals of supporting early-career scientists, advancing important research toward clinical benefit and bringing together a tightknit community of investigators dedicated to this disease."
The PanCAN staff didn't just observe outstanding scientific sessions from the sidelines, they also participated in a poster presented in partnership with the National Cancer Institute's (NCI) Surveillance, Screening, and End Results (SEER) program.
"This poster, in collaboration with the NCI and other investigators, provided evidence that we can utilize pancreatic cancer tissue samples from many years ago and extract meaningful genetic information," Manross explained. "The overarching goal of the project is to identify biological clues, known as biomarkers, or patterns that differentiate tumor samples from patients who experience long-term survival (longer than five years) compared to patients who survive less than two years."
Manross continued, "This project aligns well with the entire theme of the AACR meeting – using scientific approaches to better understand, prevent, predict, diagnose and treat all kinds of cancer."
To support PanCAN's mission to advance research, support patients and create hope for everyone affected by pancreatic cancer,
donate today
.