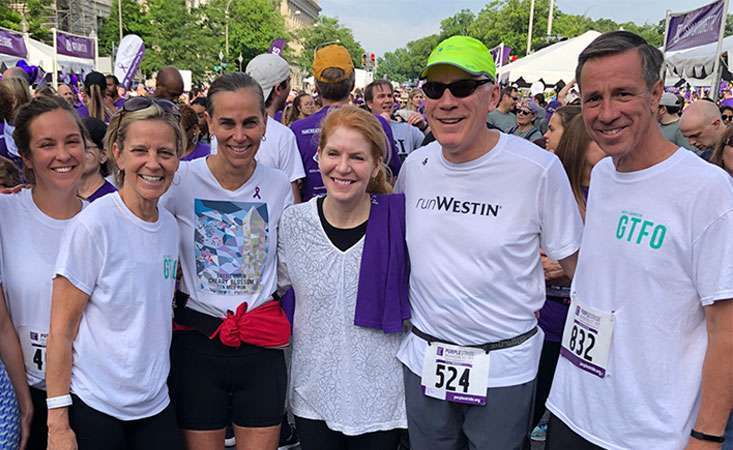 President and CEO of Marriott International Arne Sorenson died yesterday, Feb. 15, 2021, at the age of 62.
Sorenson was diagnosed with stage II pancreatic cancer in May 2019.
He quickly got involved in the pancreatic cancer cause, participating in PanCAN's PurpleStride, the walk to end pancreatic cancer, in Washington D.C.
"We are tremendously saddened to hear the news of the passing of Arne Sorenson after battling pancreatic cancer. He was a beloved member of our PanCAN community," said Julie Fleshman, JD, MBA, president and CEO of PanCAN.
As President and CEO of Marriott International – only the third person to hold the job title and the first without the Marriott surname – Sorenson not only had a sharp mind for business, but an open heart for his employees and causes meaningful to him.
"Arne was an exceptional executive – but more than that – he was an exceptional human being," said J.W. Marriott, Jr., Executive Chairman and Chairman of the Board.
He made substantial progress within the company that impacted the outside world, tackling issues on diversity, equity and inclusion, environmental sustainability and human trafficking awareness.
He did the same for pancreatic cancer – using his platform and voice to spread awareness about the world's toughest cancer.
In June 2019, he wrote about his pancreatic cancer diagnosis, PanCAN's PurpleStride and his love of running for his 800,000 followers on LinkedIn, sharing his realization that though his diagnosis may have slowed his running time, it had given his old passion an even deeper purpose.
This year, more people 60,000 are predicted to be diagnosed with pancreatic cancer in the United States – a 5% increase over last year's estimate. Pancreatic cancer is the third leading cause of cancer-related deaths in the United States and has a five-year survival rate of just 10%.
"Pancreatic cancer is a tough disease with vague symptoms and is often diagnosed too late," said Fleshman. "Even when the disease is caught early, there are not enough effective treatment options for patients. PanCAN will continue the fight to improve patient outcomes by investing in early detection research and more effective treatment options."
For those affected by the disease, PanCAN strongly suggests contacting Patient Services to learn more about pancreatic cancer, current clinical trials, resources and more.
PanCAN also encourages those who have been diagnosed to discuss genetic testing for inherited mutations and tumor tissue biomarker testing with their healthcare team. These tests can be available through their treating institution or PanCAN's Know Your Tumor® precision medicine service.
PanCAN sends its deepest condolences to the Sorenson family, including his wife and four children, and to the Marriott family he cared so much about.
Donate today
to ensure PanCAN can continue to fund research and patient services.