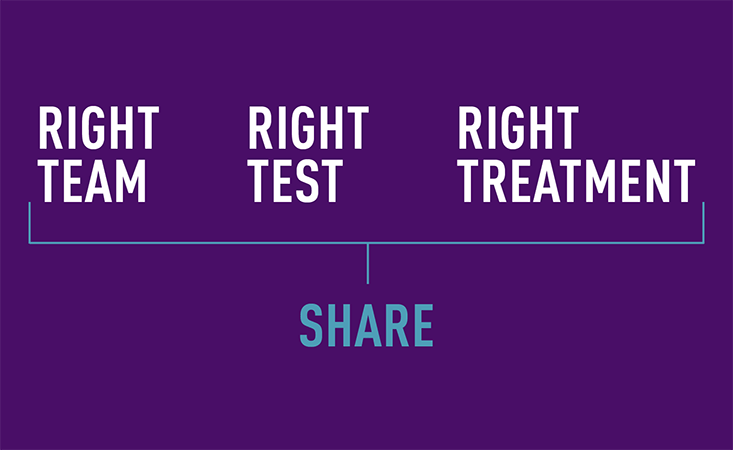 A new paper published by a team of experts at PanCAN serves as a roadmap for healthcare providers who are diagnosing, treating and managing patients with pancreatic cancer.  Published in The Oncologist in April 2023, the series of position statements focus on getting patients on the "Right Track" – which includes the right team, right tests, right treatments and data sharing.
As the 10th most commonly diagnosed cancer in the U.S., many physicians and health professionals rarely encounter pancreatic cancer. This makes guidance for short- and long-term management of the disease even more important, said PanCAN Director of Scientific Communications Allison Rosenzweig, PhD.
"Pancreatic cancer is the third leading cause of cancer-related death in the U.S., and it's on track to become the second by 2030," Rosenzweig said. "We developed our position statements to supplement national treatment guidelines and make healthcare professionals, patients and their families aware of best practices to help patients live longer and better lives."
The "Right Track" model – developed at the Harvard Business School Kraft Precision Medicine Accelerator program and championed by PanCAN – focuses on assembling a multidisciplinary team, considering all treatment options – including testing for precision medicine approaches and clinical trials – and providing patients with optimal nutritional and supportive care.
PanCAN's Scientific and Medical Affairs staff and Scientific and Medical Advisory Board created the series of evidence-based position statements using clinical observations published in the literature and years of research conducted through PanCAN's internal programs and initiatives.
The PanCAN team is uniquely positioned to offer this type of guidance to health professionals, said Rosenzweig, as PanCAN has long been a leader in the field through innovative programs like the Know Your Tumor® precision medicine service, the Precision PromiseSM adaptive clinical trial platform and the Early Detection Initiative. These research projects and other programs are leading to new knowledge and treatment options that stand to improve outcomes and overall survival.
"Through our Patient Services, we speak with more patients with pancreatic cancer than any other organization in the world," Rosenzweig said. "The learnings we've been able to gather through these interactions have informed our leading-edge clinical initiatives and allowed us to undertake research efforts aimed to detect the disease earlier and bring better treatments to patients faster."
In the newly-published paper, the first position statement focuses on the importance of assembling the right healthcare team by seeking treatment from physicians who see a high volume of pancreatic cancer patients. Evidence has shown that patients have better outcomes and longer survival when treated by teams with significant experience diagnosing and managing pancreatic cancer as compared to those treated by professionals who see few pancreatic cancer patients.
This also holds true for surgery: Another position statement calls for patients to be evaluated by a surgeon who performs a high volume of pancreatic cancer surgeries. Data shows that although 20% of pancreatic cancer patients may be eligible for surgery, up to half of those patients are told they are ineligible. Given that cancer care in the U.S. is often poorly coordinated, seeing an experienced and specially trained surgeon who is well integrated into a multidisciplinary team helps to overcome this fragmented system and leads to better outcomes for the patient.
Genetic and biomarker testing is noted as critical for patients with pancreatic cancer, as patients who go on therapy matched to their tumor's biology have been shown to live longer. Healthcare professionals are encouraged to follow guidelines that all patients undergo genetic testing for inherited mutations at diagnosis and for patients to undergo biomarker testing of their tumor tissue. Advances in precision medicine make performing these tests even more critical.
"Results from PanCAN's Know Your Tumor precision medicine service and other studies have shown that about one of every four patients with pancreatic cancer has an alteration in their tumor that can affect their treatment decisions," Rosenzweig said. "As more treatment options become available to patients with pancreatic cancer or across cancer types, the only way to know whether a patient may benefit is through careful testing of their tumor tissue and genetic makeup."
Clinical trials are a key part of the "right treatment" for patients with pancreatic cancer as they often provide access to new therapies and combinations of therapies. Nutritional and supportive care – offered early in the course of treatment – should also be standard for all patients with pancreatic cancer, according to the paper.
As treatments and approaches to care continue to evolve, gathering and making deidentified patient data available across institutions is important to progress – the final position statement shared by the PanCAN team. Since pancreatic cancer is relatively rare and survival is low, sharing data stands to accelerate the rate of new discoveries. Opportunities to gather and share data include user-friendly apps and registries like PanCAN's Patient Registry.
"We're extremely proud to have this paper published in the biomedical literature and available to healthcare providers to guide their management of patients with pancreatic cancer," said Rosenzweig. "We are grateful to our expert Scientific and Medical Advisory Board members for their trust and partnership in creating these statements and to all patients who participate in clinical research and allow their data to be shared.
"Disseminating information about best practices across clinical settings moves us closer to our vision of creating a world in which every patient with pancreatic cancer will thrive."
Donate today
so PanCAN can continue to fund research and provide free support to patients and families faced with pancreatic cancer. Your gift will make a difference in continuing progress.