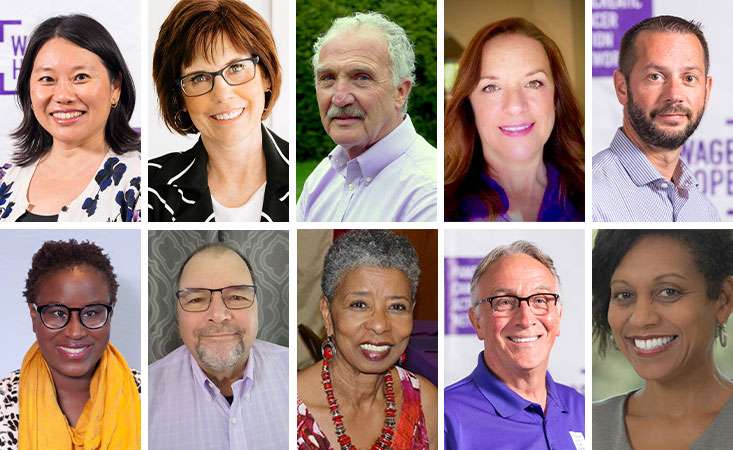 Ten pancreatic cancer survivors who have survived the disease for years – from four years to as many as 19 and even 23 years, make up the current PanCAN Survivor Council, which in July welcomed six new members.
The PanCAN Survivor Council's role is to ensure the pancreatic cancer survivors' voice, experience and expertise are integrated into all of PanCAN's programs and initiatives.
The new members are all volunteers, and they will serve a three-year term on the Survivor Council, until June 2024.
"I feel like the organization has given me more than I've given it," said Randi Ervin of the Survivor Council in a new video featuring several past and present members.
Other messages Survivor Council members relay in the video to fellow survivors:
"There is hope – be positive and continue to fight."
And from Survivor Council Alumni member Roberta Luna, her encouragement to others: "Don't worry about a thing – because every little thing is going to be alright."
We spoke with the Survivor Council in June, on National Cancer Survivors' Day, about what it meant to them to be a pancreatic cancer survivor. They shared responses to this question and others on our blog.
Anne Shimabukuro, co-chair of the Survivor Council, said: "As a 15-plus-year survivor, my survivorship is not always top of mind – it's now a part of me. This journey has given me strength as well as more self-confidence. I'll often remind myself, "I conquered pancreatic cancer; I can deal with anything."
The Survivor Council meets regularly with PanCAN on a variety of topics, including PanCAN's patient services, providing feedback to industry sponsors, engaging with affiliates, and more.
We are grateful to them for sharing their voices, their experiences and insight as pancreatic cancer survivors, and for helping PanCAN continue to be the go-to organization for people affected by the disease.
If you or someone you know is facing pancreatic cancer,
PanCAN Patient Services
can help with free, in-depth and personalized information and resources on pancreatic cancer.