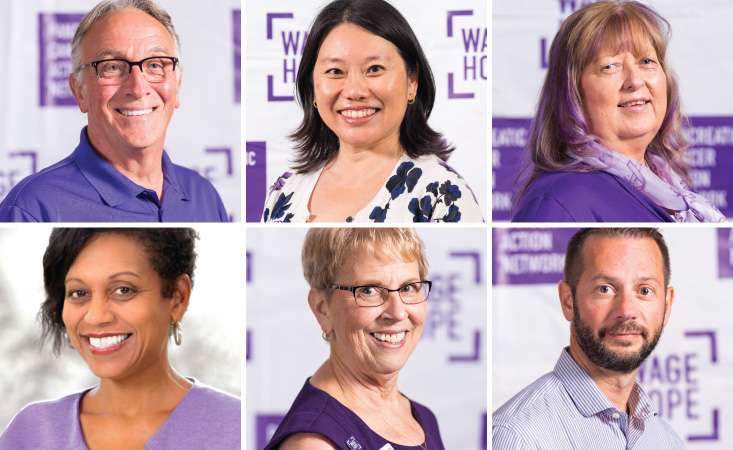 Editor's note: In honor of National Cancer Survivors' Day on June 6, 2021, we invited members of PanCAN's Survivor Council to pass along encouraging words to pancreatic cancer patients and to also share what it means to them to be a survivor. The Survivor Council is a group of volunteers created to ensure the survivors' voice, experience and expertise are integrated into PanCAN's programs and initiatives. Today and every day, we honor all survivors and remember those who've lost their life to the disease. We are here for everyone affected by pancreatic cancer.
PanCAN: Celebrating life is one of the themes of National Cancer Survivors' Day. How do you celebrate life?
Teona Ducre: I do my best to practice gratitude every day. Since surviving cancer, I understand that even the little things I may have taken for granted before – seeing my children smile, hanging out with friends and family on a random Tuesday afternoon, or just waking up in the morning – are really big blessings.
Roberta Luna: I celebrate life by savoring every moment, not taking anyone or anything for granted, trying to be the best person I can. Stop and smell the flowers, dance like nobody's watching, sing like no one is listening! I know these are all cliché but when you've been given what seems like a death sentence, the little things really take on new meaning.
Steve Nelson: I celebrate every time I find an opportunity to tell my story of hope.
Nick Pifani: I celebrate life by making memories with the people I love and making a difference for a better tomorrow.  I share my story with newly diagnosed patients with the goal of giving them hope.
Anne Shimabukuro: I value my time more. My priorities have shifted – my family and my health come first. I am more willing to say "no" than I was before.
PanCAN: Have you started any new traditions since your cancer diagnosis?
Roberta: On April 9, 2013, a group of survivors, family and friends and I celebrated life by jumping out of an airplane. What we thought was a one-time event has turned into an annual tradition. Every April, for eight years and counting, a group of us skydive from a height of 14,000 feet. There's always at least one first-time jumper with us.
Nick: Every year we celebrate my Whipple surgery anniversary. I was fortunate to come out of surgery cancer-free and I consider it a second birthday because I got a second chance at life.
PanCAN: What is your advice for people living with pancreatic cancer or for those who are newly diagnosed?
Roberta: My advice to someone newly diagnosed is to get all the information, but don't let it weigh you down. Ask questions, be your own advocate, remember to enjoy life and keep fighting.
Steve: Never give up hope! I have a brother who is a 17-year survivor. And as a member of PanCAN's Survivor Council, I know many others who have beaten the odds, and those odds get better every year. You could be next!
Nick: Remember that you are not a number and you don't fall into a specific category or statistic. If you've been recently diagnosed, contact PanCAN's Patient Services and get genetic testing.
Anne: If you're living with pancreatic cancer, keep living! Do what you love. And give yourself a break. If you've been recently diagnosed, don't think about the statistics. Your case is unique and it's the only case you should care about. Put yourself first. And don't be afraid to ask for help.
PanCAN: What does it mean to you to be a survivor?
Teona: It means I can accomplish anything. Whenever I am faced with a challenge, I think, "This is nothing. You survived one of the deadliest cancers in the world so you can do this, too." I also get the privilege to share my story to encourage others and that means a lot to me.
Roberta: To be a survivor means I've been given a very special precious gift, the gift of life, the gift to love more deeply, the gift to inspire someone, to make a difference, to give back, to do better.
Steve: Due to genetic testing and a regular screening regimen, my cancer was discovered early. I encourage anyone with first or second-degree relatives who have or have had pancreatic cancer to get tested for genetic mutations. And if they find they have a mutation, to embrace regular screenings. It could save their life, like it did mine!
Nick: My story is different because I lost three family members to the disease – I am the lone survivor. As a survivor, I carry a piece of my lost family members with me – it inspires me to make a difference in this fight. This is how I honor them and make sure their cancer battle is never forgotten.
Cathy: We, the survivors, need to be the voice for all those who are no longer here.
Anne: As a 15-plus-year survivor, my survivorship is not always top of mind – it's now a part of me. This journey has given me strength as well as more self-confidence. I'll often remind myself, "I conquered pancreatic cancer; I can deal with anything."
If you or someone you know is facing pancreatic cancer,
PanCAN's Patient Services
can help with free, in-depth and personalized information and resources on pancreatic cancer.