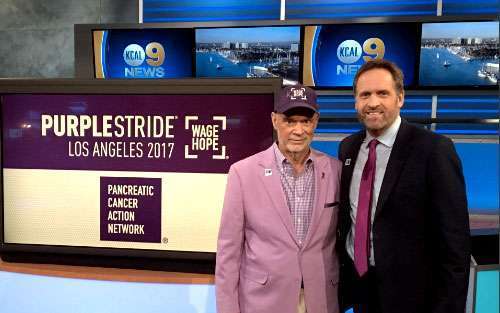 April – Volunteer Appreciation Month – may have ended, but volunteer appreciation never ends at the Pancreatic Cancer Action Network. It's only fitting that we wrap up Volunteer Appreciation Month with a blog showing gratitude to the people who make the impossible possible – our dedicated volunteers!
And speaking of, check out this KCAL interview from Los Angeles featuring a couple of our most passionate volunteers.
The interview features pancreatic cancer survivor and member of our Volunteer Advisory Council, Larry Clark, alongside his surgeon, Dr. Nicholas Nissen, who is a member of our Scientific and Medical Advisory Board. The duo sat down with KCAL-TV to share why PurpleStride Los Angeles is so important to the community.
Our volunteers are the driving force behind more than 50 PurpleStride events each year, which contribute millions of dollars that support programs like Precision PromiseSM, Know Your Tumor® and the Patient Registry.
The numbers speak for themselves. In 2016, we raised $12.4 million through PurpleStride events, and our volunteers logged nearly 147,000 hours of time to our cause. Despite having full-time jobs and families to support, our volunteer network remains committed to our goal to double pancreatic cancer survival by 2020.
Simply put – without our volunteers, PanCAN would not be the organization we are today. Every volunteer plays a critical role in the advancement of pancreatic cancer research and providing an improved quality of life for patients and families affected by this disease.
So, here's to our volunteers who shine so brightly in all that they do. We Wage Hope for you. Thank you!
To find, register or donate to a PurpleStride near you, please visit www.purplestride.org. And remember, when you register for PurpleStride, you aren't just supporting our organization. You are also showing your appreciation to the thousands of PanCAN volunteers who have worked diligently to put together this event.