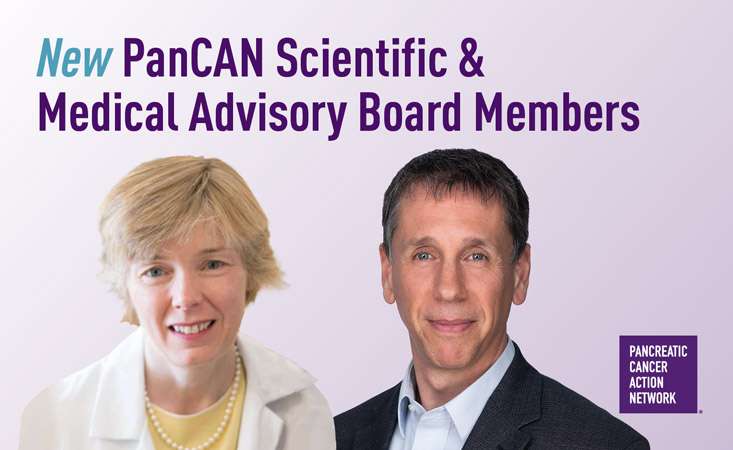 The Pancreatic Cancer Action Network (PanCAN) welcomes new leadership and new members to PanCAN's Scientific & Medical Advisory Board (SMAB), representing the foremost expertise in the field. As well, PanCAN gratefully acknowledges the contributions of five SMAB members whose term has ended and will be rolling off of the board. SMAB changes were effective July 1, 2023.
PanCAN's SMAB includes leading scientists, clinicians and healthcare professionals who specialize in pancreatic cancer from institutions across the United States. The SMAB provides scientific and clinical expertise to guide PanCAN in planning and implementing its research initiatives, as well as its in-depth information, resources and services for patients, caregivers, and healthcare professionals. All members contribute their expertise on a pro bono basis.
Current SMAB members Eileen M. O'Reilly, MD, from Memorial Sloan Kettering Cancer Center (MSK) and Gregory Beatty, MD, PhD, step into the roles of Chair and Vice Chair, respectively. PanCAN is grateful to outgoing Chair Margaret Tempero, MD, for her leadership. Dr. Tempero has been a scientific advisor to PanCAN since the organization's founding and she will remain on the SMAB as a participant.
"Our SMAB is made up of some of the most accomplished scientists and medical professionals in the field, representing the nation's leading institutions and high-volume centers for pancreatic cancer," said Julie Fleshman, JD, MBA, president and CEO of PanCAN. "Through the leadership and support of Dr. O'Reilly and Dr. Beatty, our goal is to improve patient outcomes through advanced research, better early detection strategies, improved treatment options and ensuring patients receive the best care."
Dr. O'Reilly currently serves as Winthrop Rockefeller Endowed Chair of Medical Oncology; Co-Director, Medical Initiatives, David M. Rubenstein Center for Pancreatic Cancer Research and Section Head, Hepatopancreaticobilary & Neuroendocrine Cancers at MSK. Her research initiatives include integrating molecular and genetic-based therapies into the treatment of pancreas cancer, developing adjuvant and neoadjuvant therapies, and identifying biomarkers that may be used to select therapy. She is the principal investigator of multiple phase I, II, and III pancreatic cancer clinical trials.
Dr. O'Reilly is also a principal investigator on PanCAN's Precision Promise clinical trial and sits on the Precision Promise Arm Selection Committee.
"I am honored and privileged to be selected as PanCAN's next SMAB Chair," Dr. O'Reilly said. "PanCAN is critically important to the field for many reasons, including its extensive outreach, scientific rigor, and support for the clinical and research pancreatic cancer community. I regard this organization with the highest esteem. I very much look forward to this coming year and engaging with the PanCAN team, this outstanding group of physicians, scientists, researchers and other professionals, the wider pancreas cancer community, and keeping our key focus on the mission of the organization."
Newly elected Vice Chair Dr. Beatty agrees. "PanCAN has established an amazing community bridging advocates, patients, physicians, nurses, researchers, students, industry partners, and many more," Dr. Beatty said. "This community is vital to the fight against pancreatic cancer, the sharing of knowledge, and the fostering of new ideas. Being a part of this is inspiring and I am incredibly appreciative to be a member of this community PanCAN has nurtured."
Dr. Beatty is an Associate Professor of Medicine at the Perelman School of Medicine at the University of Pennsylvania and in the Division of Hematology/Oncology within the Abramson Cancer Center at Penn Medicine. Dr. Beatty is the recipient of multiple PanCAN Research Grants, having been awarded the 2017 Pancreatic Cancer Action Network Precision Medicine Targeted Grant in memory of Skip Viragh and an extension of that award in 2021. Dr. Beatty was also awarded two grants in 2022:  The Pancreatic Cancer Action Network Therapeutic Accelerator Collaborative Award in memory of Llewellyn Bixby IV, through a gift made by his family and The Pancreatic Cancer Action Network Precision Medicine Targeted Grant Extension funded by Leslie Gaynor in memory of Phyllis Bolotin.  All grants are selected through a rigorous peer review process.
Dr. Beatty's clinical expertise is in the area of early clinical trials for the treatment of gastrointestinal malignancies including pancreas carcinomas. He has led the first clinical study of CD40 immunotherapy for pancreas cancer, the first in-human studies of adoptive T cell therapies for pancreas cancer and is currently working to translate novel immune agonists for pancreas cancer.
Dr. Beatty is also a principal investigator of PanCAN's Precision Promise clinical trial and is the Chair of the Precision Promise Translational Research Committee.
Joining PanCAN's SMAB will be:
Jonathan Brody, PhD, Oregon Health & Science University
E. Gabriela Chiorean, MD, FASCO, University of Washington, Fred Hutchinson Cancer Center
Efrat Dotan, MD, Fox Chase Cancer Center
Andrew Hendifar, MD, Cedars-Sinai Medical Center
Peter Hosein, MD, University of Miami
Marcus S. Noel, MD, Medstar Georgetown University Hospital
Shubham Pant, MD, MD Anderson Cancer Center
Marina Pasca di Magliano, PhD, University of Michigan
Jennifer B. Permuth, PhD, MS, Moffitt Cancer Center
Mike Pishvaian, MD, PhD, Johns Hopkins Kimmel Cancer Center
Aatur Singhi, MD, PhD, University of Pittsburgh
Sapna Syngal, MD, MPH, Dana-Farber Cancer Institute
Colin Weekes, MD, PhD, Massachusetts General Hospital
Jen Jen Yeh, MD, University of North Carolina
Members whose terms have ended are Channing Der, PhD; George A. Fisher Jr., MD, PhD; Jason Fleming, MD; Hedy Kindler, MD and Anirban Maitra, MBBS.
Editor's note: As a member of PanCAN's Precision Promise Steering Committee and Chair of the Translational Research Committee, Dr. Beatty receives an annual honorarium.
Give today
and support pancreatic cancer research funding, free services for patients and families, and more.