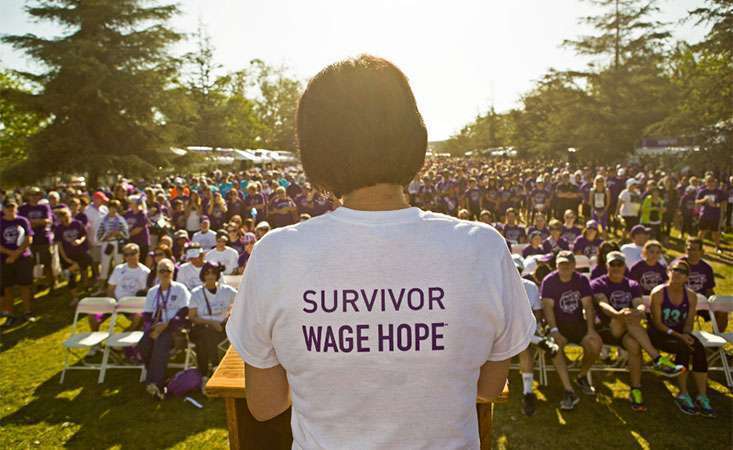 While the Pancreatic Cancer Action Network (PanCAN) attacks pancreatic cancer through research, clinical initiatives, patient services and advocacy year-round, Nov. 1 marks the start of Pancreatic Cancer Awareness Month. The campaign theme this year is, "Demand Better. For Patients. For Survival." Staff, volunteers, advocates, researchers and healthcare providers, as well as survivors and caregivers nationwide, are shining the purple spotlight on the importance of knowing the risk factors and symptoms of pancreatic cancer.
"Early stage pancreatic cancer often goes undetected because the symptoms are so vague," said PanCAN's Chief Medical Officer, Victoria Manax, MD. "Patients often associate their symptoms with something else. That's why we are diligently working to raise awareness about the warning signs."
Among the signs and symptoms of pancreatic cancer are:
Back or stomach pain
Abdominal bloating
Loss of appetite and weight loss
Yellowing of the skin and eyes
A change in stools
Sudden onset of diabetes
Paying attention to these health indicators is especially important for people who have one or more of the following risk factors:
Smoking
Diabetes
Chronic and hereditary pancreatitis (inflammation of the pancreas)
Age (people over 60 years of age)
Obesity
Diet high in red meats
Family history
"Education and awareness are crucial steps in combating the world's toughest cancer," said Julie Fleshman, JD, MBA, president and CEO of PanCAN. "Better progress for pancreatic cancer patients starts with disease education, which results in earlier detection and more treatment options."
To get closer to that goal, PanCAN is joining more than 75 organizations worldwide to raise awareness about the disease on Nov. 15 for World Pancreatic Cancer Day. Be sure to wear purple, and if you can, snap a selfie and post it on Facebook, Twitter or Instagram with the hashtag #WPCD.
Pancreatic cancer is the third leading cause of cancer-related death in the United States, taking the lives of more people than breast cancer. It is projected to become the second leading cause of cancer-related death by 2020. In fact, it's the only major cancer with a single-digit survival rate. Just 9 percent of people with pancreatic cancer will live five years beyond diagnosis.
These figures are unacceptable. That's why this November, and every day that follows, PanCAN will Demand Better. For Patients. For Survival.