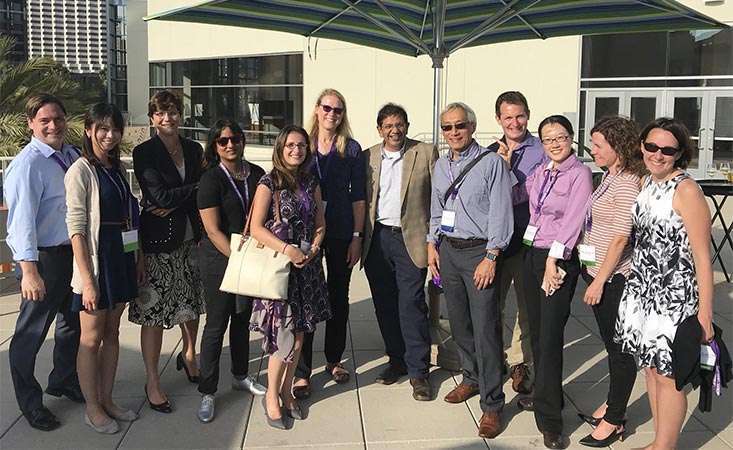 The fitting theme for this year's Pancreatic Cancer Action Network (PanCAN) Annual Scientific Summit, occurring Aug. 23-26, 2018, in San Diego, was "Unlock Your Superpowers." Taking place simultaneously with the organization's Volunteer Leadership Summit, the events brought together volunteers, survivors, researchers, clinicians and others who are superheroes in the fight against pancreatic cancer.
The Annual Scientific Summit convenes recipients of the organization's prestigious research grants, members of the elite Scientific and Medical Advisory Board (SMAB), partners from major pharmaceutical companies and other scientific and clinical leaders in the field.
Are you following some of our leaders on Twitter? Follow @arosenzweig19 @JulieFleshman @LynnMatrisian @victoriamanax to get the latest on #pancreaticcancer! #PANCaware pic.twitter.com/eZZ9fZJha5

— PanCAN (@PanCAN) August 24, 2018
This year's event kicked off with a welcome reception, which included poster presentations by members of PanCAN's Scientific and Medical Affairs team. Posters outlined progress through the organization's Know Your Tumor® precision medicine service, the latest trends in clinical trials available through Clinical Trial Finder, learnings about symptoms, diagnosis and treatment from the Patient Registry and more.
"The opening reception was an exciting addition to our Summit weekend schedule," said Lynn Matrisian, PhD, MBA, PanCAN's chief science officer. "It was a great opportunity to showcase PanCAN's scientific and clinical initiatives and facilitate conversations about how we can all work together to improve patient outcomes."
Friday morning's general session brought together all attendees of both the Scientific and Volunteer Leadership Summits and featured an overview of the organization's progress toward its vision to double pancreatic cancer survival by 2020.
Research grantees, SMAB members and key investigators involved with the organization's leading-edge initiatives were celebrated onstage amid rousing applause. In true superhero fashion, the researchers had fun with the theme and leapt, punched and spun their way to the stage in capes and masks.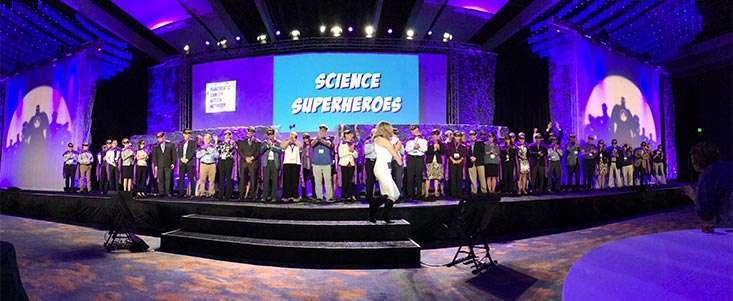 "Science Superheroes" celebrated onstage during the opening general session.
"It's so invigorating to see all the scientists and healthcare professionals up on the stage – and seeing how much the group grows year over year. It's an emotional moment for everyone in the room," Matrisian said.
The Scientific Summit agenda included riveting presentations from recipients of targeted grants focused on two key topics: precision medicine and early detection. Efforts toward improving precision medicine, or matching a patient's treatment with the molecular profile (specific biological characteristics) of their tumor, have the potential to provide more, and more personalized, treatment options to patients. And early detection work is crucial to diagnosing patients in the less advanced, more treatable stages of the disease.
Other speakers included Translational Research Grant recipients, whose projects aim to move promising laboratory findings into clinical testing as quickly and efficiently as possible. A keynote lecture was delivered by George Miller, MD, two-time PanCAN grantee, who discussed his recent studies tying pancreatic cancer progression and treatment response with bacteria present in the patient's pancreas and gut.
"The caliber of the scientific and clinical presentations at the Summit was outstanding," Matrisian said. "It is clear that progress is being made – we're deepening our understanding of the biological features that make healthy cells of the pancreas turn cancerous. The field is using that information to devise better early detection strategies and more effective treatment options."
The Scientific Summit attendees were also treated to a panel discussion featuring pancreatic cancer survivors who are also volunteer leaders in their community – and who have participated in research themselves.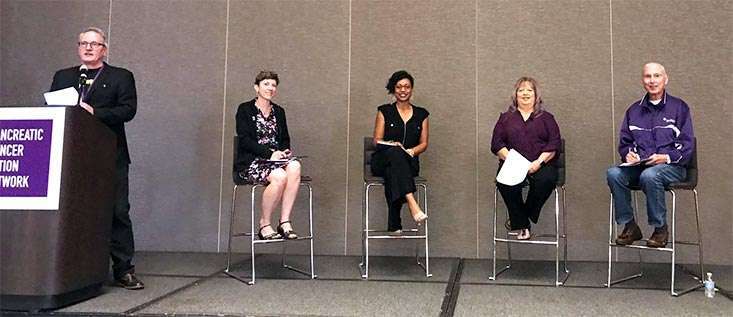 Howard Crawford, PhD, left, introduces survivor panel moderated by Hilary Turnberg, BSN, RN.
"Many of the meeting participants are research scientists who don't typically interact directly with patients," Matrisian noted. "The opportunity to hear directly from survivors helps strengthen their resolve to work harder and focus on studies with the most potential for patient benefit."
She added, "Seeing how much the survivors and volunteers admire and appreciate the researchers – and the other way around – was so heartwarming. Every single one of them is a superhero in my mind!"
Nothing like a @PanCAN Summit meeting to remind you of the basic decency of people and their dogged determination to do good in this world. Especially needed these days. Can we have another one next weekend?

— HCCrawford (@HCCvPDAC) August 26, 2018
Support PanCAN's efforts
to double pancreatic cancer survival through funding research grants and conducting innovative scientific and clinical initiatives.