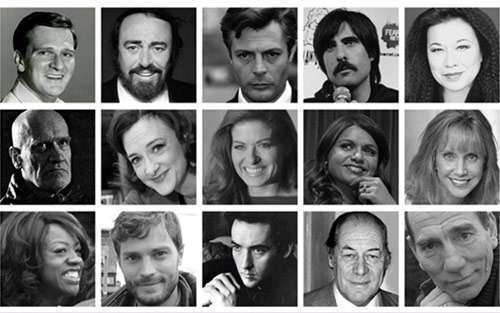 As Hollywood prepares for The Oscars® on February 26, we are highlighting talented individuals of the arts who have not only fallen to pancreatic cancer but, those who have been impacted by the disease.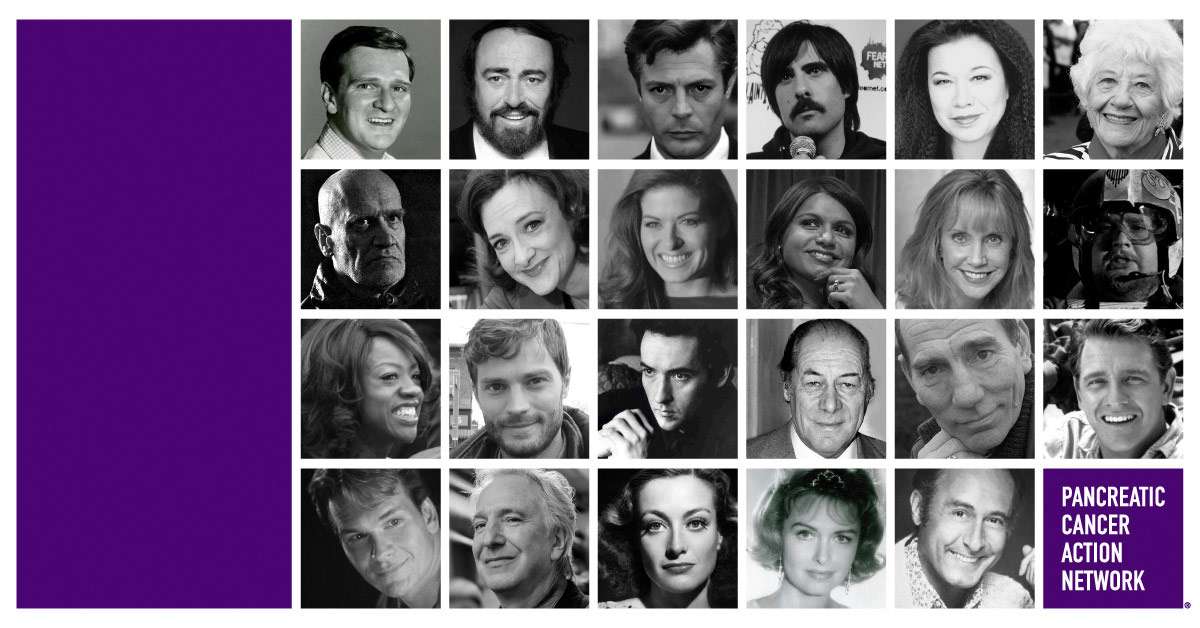 Top Row: Actor Kenneth Mars, opera singer Luciano Pavarotti, actor Marcello Mastroianni, actor Jason Schwartzman, costume designer Eiko Ishioka, and actress and survivor Charlotte Rae.
Second Row: Actor/musician and survivor Wilko Johnson, actress Joan Cusack, actress Debra Messing and actress Mindy Kaling, actress Mary Ellen Trainor, and actor William Hootkins.
Third Row: Actress Viola Davis, actor Jamie Dornan, actor John Cusack, actor Rex Harrison, actor Pete Postlethwaite. and actor Richard Crenna.
Fourth Row: Actor Patrick Swayze, actor Alan Rickman, actress Joan Crawford, actress Donna Reed, and composer Henry Mancini.
Oscar nominated British actor John Hurt was no stranger to escaping adversity on the silver screen. On Jan.25, it became clear: it's real-life he couldn't conquer – not with pancreatic cancer in the running.
Coincidentally, his sci-fi actor colleague Richard Hatch passed away less than two weeks later of the same disease. Hatch and Hurt join a growing list of notables who have succumbed to pancreatic cancer.
Joan Crawford, the powerful, sultry and provocative lead actress ranked as one of the greatest female stars of Old Classic Hollywood Cinema lost her battle in 1977.
Henry Mancini, American composer and conductor best-known for his film and television scores for "The Pink Panther" and "Breakfast at Tiffany's" lost his battle in 1994.
Let us not forget Patrick Swayze. The film heartthrob, dancer, singer and songwriter fought for 20 months. He lost his battle in 2009. He was 57.
Viola Davis, Debra Messing and Mindy Kaling are just a few celebrities who have lost a parent to the disease.
Performers who are pancreatic cancer survivors include Charlotte Rae, best known for her TV roles in "Diff'rent Strokes" and "The Facts of Life", and Wilko Johnson of the HBO award-winning series "Game of Thrones."
From the big screen to the small screen, pancreatic cancer has taken center stage in the lives of Hollywood's elite. Their public battles are a clear reminder that this disease affects all people.
Pancreatic cancer is the third-leading cause of cancer related death in the United States with a five-year survival rate of just 9 percent. It's our nation's deadliest major cancer and it's stealing the spotlight from some of Hollywood's most idolized unhidden figures.
Our organization has set a bold goal to double pancreatic cancer survival by 2020, but we must continue to Wage Hope for all patients today. We need your support today to improve patient outcomes in 2017 and beyond. Please make a donation today.
---
Above graphic does not represent all notable figures affected by pancreatic cancer. Images used for this blog are assumed to be in public domain. If you are the owner of an image(s) used in this blog and believe their use on this site is in violation of any copyright law, please contact media@pancan.org.