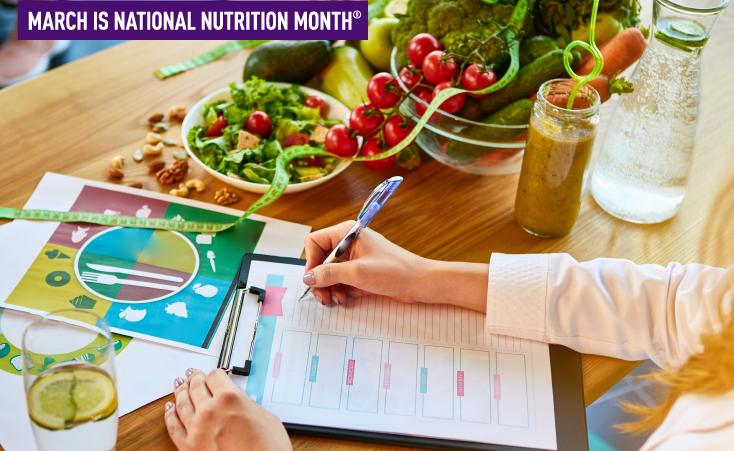 Making the healthiest choices possible to maintain good nutrition can help patients with pancreatic cancer minimize the side effects of treatment, recover from surgery and maintain the best quality of life possible.
By working with a dietitian, patients can create a nutrition plan that works best for them and their specific needs, whether it's pre- or post-surgery or as part of a long-term strategy to maintain health. Not only are these health professionals up to date on the most recent research, they provide important support and guidance to family and caregivers as they navigate their loved one's diagnosis and treatment.
Clinical oncology dietitian Jeannine Mills, a member of PanCAN's Scientific & Medical Advisory Board, is with the Gastrointestinal Oncology Program at Norris Cotton Cancer Center at Dartmouth Hitchcock Medical Center.
We asked Jeannine to share more about how a dietitian can help pancreatic cancer patients.
PanCAN: Let's start with the basics. What is a registered dietitian?
Jeannine: A dietitian is a healthcare professional trained in food, nutrition, biochemistry and physiology. They must complete either an undergraduate or graduate degree in nutrition and an internship certified by the Academy of Nutrition and Dietetics. Lastly, they must pass a national registration exam. Some states require licensure, so some dietitians may be both registered and licensed.
The terms "nutritionist" and "dietitian" are not interchangeable – "nutritionists" are not professionally regulated. A person can refer to themselves as a "nutritionist" without a degree or successful completion of a registration exam. However, since all dietitians are nutritionists, some refer to themselves as a registered dietitian/nutritionist. It is helpful to note the distinctions as you seek out the professionals that will be the best fit for your team!
I would also recommend that patients with pancreatic cancer seek out a clinical oncology dietitian – these are professionals trained specifically to work with patients facing a cancer diagnosis. They have the credential "CSO" to indicate they are a "Certified Specialist in Oncology" nutrition.
PanCAN: Why are registered dietitians an important member of the healthcare team?
Jeannine: A dietitian can evaluate a patient's needs and help design a diet that will be best for various phases of their journey – whether it is immediately post-surgery, during chemotherapy or radiation or managing health for the long-term.
Needs change over time and every individual will be different, so it is essential that the dietitian be working in close coordination with the rest of the patient's healthcare team. For example, it's common for me to be part of the initial appointment with someone after they've been diagnosed with pancreatic cancer, to do post-op visits after the Whipple procedure and other pancreatic surgeries, and to be on-site with patients during treatment or at clinic visits.
Overall, a dietitian can help manage symptoms and side effects from the cancer itself or from treatment. They are focused on improving a patient's wellbeing – both through practical recommendations and by serving as a trusted guide. One of the most helpful things I've found that I can do for patients is to let them know that the nutritional challenges they may be having – lack of appetite, issues with gas, taste bud changes – are "normal," and that helps ease their minds.
PanCAN: How should I prepare for a visit with my dietitian?
Jeannine: Bring your questions and concerns! Be prepared to open up a dialogue about how you've been approaching diet and nutrition, the symptoms you're experiencing and what you would like to address to improve your health.
Depending on a patient's specific needs – whether they are getting ready for surgery or are undergoing treatment like chemotherapy or radiation or are moving into a long-term maintenance phase – a dietitian will bring recommendations tailored to their situation to improve quality of life.
For example, we can offer tips to combat weight loss, like focusing on certain protein sources. Or to settle an upset stomach, avoid these foods. Pancreatic enzymes can be key for many patients and a dietitian can advise on dosing and other best practices.
Some general questions to consider:
What are some examples of things I should eat for breakfast/lunch/dinner?
Are there foods I should avoid?
What types of food should I try to include in my diet?
How should I change my diet to account for the digestive symptoms I am experiencing?
How should I handle lack of appetite or account for fatigue?
Are there any recipes or cookbooks you suggest?
PanCAN: How do I find a registered dietitian?
Jeannine: You can always contact PanCAN Patient Services. The team provides invaluable guidance for patients and families as they seek out a dietitian and navigate questions and concerns related to nutrition. Additionally, a patient's oncologist or cancer center often has recommendations for dietitians. You can also visit the Academy of Nutrition and Dietetics' website, eatright.org, to search for a dietitian in your area. The Commission on Dietetic Registration, at cdrnet.org, maintains a list of board-certified specialists in oncology nutrition by state.
Contact PanCAN
Patient Services
for comprehensive information about diet, nutrition and living with pancreatic cancer, as well as resources to find a dietitian and additional questions to ask when meeting with a dietitian.