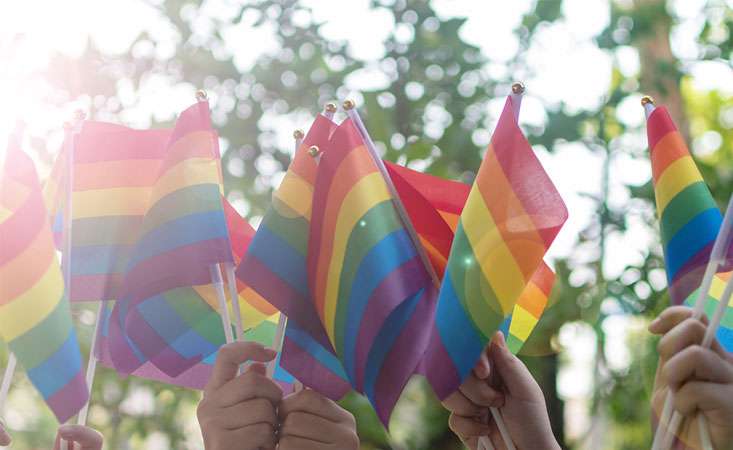 June is Pride Month. Here, in an article written by Nicolas Clifford, manager of research and education communications for PanCAN, we focus on the unique barriers to care and health disparities facing the LGBTQ+ community, as well as ways PanCAN can help those diagnosed with pancreatic cancer.
For LGBTQ+ patients, the anxiety of a serious illness like pancreatic cancer can be magnified by a healthcare system that may not always be equipped to provide sensitive, competent care to gender and sexual minorities.
Barriers to care caused by health disparities rooted in systemic discrimination and abuse may prevent LGBTQ+ people from seeking healthcare at every stage, from preventative care through diagnosis and treatment of pancreatic cancer. The very nature of an LGBTQ+ person's identity may put them at risk of poorer outcomes. Fear of discrimination or past mistreatment can cause an underlying mistrust of the healthcare system, as might be the case for those who lived through the HIV/AIDS epidemic, a disease that is still attached to significant and paralyzing stigma.
Discrimination and abandonment from family due to their identity can also leave many LGBTQ+ people to suffer through the physical, emotional and financial hardships of serious illness alone, without loved ones to support them. Additionally, even if an LGBTQ+ patient has strong personal or community relationships, non-traditional support systems such as "chosen family" may not be fully understood or respected, further isolating patients.
For a disease as complex as pancreatic cancer, it is important for LGBTQ+ individuals to find a provider they can trust to care for historically marginalized communities. PanCAN Patient Services can find gastroenterologists and other providers throughout the country, as well as connect patients to LGBTQ+ specific resources and support groups for those facing a cancer diagnosis.
This support is critical, as barriers to care lead to measurable health disparities among LGBTQ+ people. A 2020 survey of the LGBTQ+ community by the Center for American Progress (CAP) found that nearly 3 in 10 LGBTQ Americans reported difficulty in accessing care due to cost. Discrimination and mistreatment in the past led 15% of LGBTQ Americans to avoid regular medical care. This figure is more than double in the transgender community, where people can face an increased risk of discrimination.
Disparity research has become an important area of focus in medicine. Lack of access to care, limited financial resources and fear of discrimination are just a few factors that have led to poorer outcomes and higher incidence rates of disease among racial, ethnic, gender and sexual minorities.
Read more
about racial and ethnic disparities in pancreatic cancer outcomes and ongoing work to address these challenges.
These disparities are often deeply rooted in systemic, institutionalized racism and discrimination, the effects of which last long after laws and public attitudes may have changed.
Here are some of the unique barriers faced by the LGBTQ+ community.
Fears of mistreatment due to homophobia and/or transphobia:
Patients may fear they will be denied care or will experience mistreatment based on their sexual orientation and gender identity.
Some may feel like they need to hide evidence of their orientation or gender identity to receive in-home care.
For transgender community members, there may be concern that the in-home care team will not respect their gender identity or pronouns and/or misgender them, and in doing so cause intense emotional harm.
Already limited energy is spent educating providers.
Fear that the in-home care team will be rude or disrespectful to the patient's chosen family.
Financial Barriers:
Due to the complexity of private insurance, Medicare or Medicaid, patients may worry about out-of-pocket costs associated with LGBTQ+ inclusive care.
Worry that upon hospice admission, transgender patients may lose coverage for hormone therapy due to changes in insurance coverage upon admission or that hospice won't understand the importance of remaining on this therapy.
LGBTQ+ communities are more likely to live in poverty and are less likely to be insured.
Institutional Barriers:
Non-inclusive and discriminatory admissions practices at hospitals, treatment facilities, hospice programs.
Non-inclusive education and outreach materials.
Inadequate training for healthcare providers on LGBTQ+ specific issues, gender identity and gender expression.
During Pride Month and beyond, it's important to raise awareness of the health disparities experienced by the LGBTQ+ community. And when it comes to pancreatic cancer, PanCAN is ready to help patients navigate the healthcare system and find the resources they need.
Contact
PanCAN Patient Services
for resources related to financial assistance, LGBTQ cancer patient-specific support groups, diet and nutrition and more.