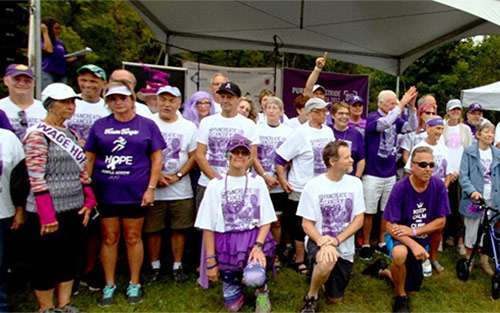 The Twin Cities turned purple this Saturday for PurpleRideStride Minnesota, the road to end pancreatic cancer. A record-breaking 68 pancreatic cancer survivors attended the event, the most survivors to attend the Pancreatic Cancer Action Network's signature fundraiser!


A portion of the 68 pancreatic cancer survivors at PurpleRideStride Minnesota on Sept. 16
Despite early morning storms, roughly 1,900 participants showed up at Elm Creek Regional Park raising approximately $300,000 to end pancreatic cancer. Camille Williams, weekend anchor at NBC affiliate KARE 11, emceed the event.
"I lost my mom to pancreatic cancer in 2012, so this is a cause that is very near and dear to me," Williams said. "And I want to help raise awareness so we can one day have a 100 percent survival rate."
The five-year survival for pancreatic cancer has increased one percentage point over the last three years – jumping from 6 percent to 9 percent. Those three percentage points represent approximately 1,500 mothers, daughters, fathers, sons, sisters, brothers, colleagues and friends.
However, more must be done to continue accelerating progress.
Leading up to PurpleRideStride, PanCAN founder, Pamela Acosta Marquardt and survivor Nancy Marian, spoke on KARE 11's "Sandwich Generation" about PanCAN's efforts to accelerate progress, as well as the effects of pancreatic cancer within baby boomer population. Marquardt's mother, Rose, died just six months after diagnosis at age 68.
Funds raised through PurpleStride® support vital patient programs and services including Precision PromiseSM, Know Your Tumor® and the Patient Registry.
There's still time to donate to PurpleRideStride Minnesota in honor of countless loved ones fighting the disease. Register or donate to your local PurpleStride by visiting purplestride.org.