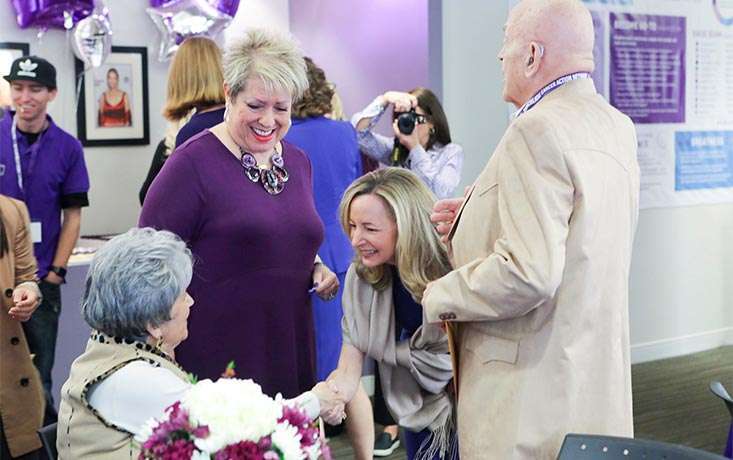 Editor's note: Welcome to our "Moments Matter" story series, in which supporters tell us about the moments that have mattered for them and their loved ones, and the moments they dream of for the pancreatic cancer community in the future.
The Pancreatic Cancer Action Network (PanCAN) hosted some 100 honored guests at its national headquarters in Manhattan Beach, Calif., on Feb. 22, to commemorate the organization's 20 years of service. The nonprofit thanked all supporters who have joined the movement to give pancreatic cancer patients and families more moments together.
Below are highlights from the festivities, including quotes from guest speakers, that focus on moments to remember – the ones that have mattered and those they look forward to in the future:
"We all have moments we remember, tied to dates we will never forget. My never-to-be-forgotten moment was seeing the Recalcitrant Cancer Research Act pass the Senate and knowing it would become law. Thousands of passionate volunteers had worked tirelessly for years – and responded to PanCAN's leadership – for the passage of this bill and to change the course of pancreatic cancer. My dream is that funding for pancreatic cancer research becomes a national priority, and with your help that dream will come true." – Diane Borrison, 12-year pancreatic cancer survivor, longtime volunteer for PanCAN and member of its Survivor Council
"I'll never forget seeing the Know Your Tumor report for a young patient we were caring for and seeing there was a treatment we could offer him. It was like having a winning lottery ticket. The moment I dream about in the future is that one day, when pancreatic cancer patients come in, concerned and anxious, I can say, 'You've got this, you're going to be just fine.'" – Andrew Hendifar, MD, medical oncology lead for the Gastrointestinal Disease Research Group at Cedars-Sinai and co-director of Pancreas Oncology
"As I reflect on being seven years pancreatic cancer-free, there are moments that have shaped where I am now and moments that keep me motivated for the future. The moment I woke up after my surgery and saw my mom, she said, 'I'm excited to see what is in store for you.' In that moment, I knew I needed to use, to the best of my ability, this second chance I had been given." – Matt Wilson, a seven-year pancreatic cancer survivor who is co-chair of PanCAN's Volunteer Advisory Council and a long-standing volunteer leader from Delaware
"There are very specific moments that led to where we are today. I talk all the time about 'connecting the dots,' but when you think about it, it's really about connecting those moments that matter." – PanCAN Founder Pamela Acosta Marquardt
"I can still remember the moment I reached out to Pam [PanCAN's founder]. My dad had just died. Her calming voice made me believe there was a great purpose in all of this. Pam always puts this organization first. She always puts the mission first. I can't think of a better founder or partner." – Julie Fleshman, JD, MBA, president and CEO of PanCAN
"Everybody knows someone who has died of pancreas cancer. I dream of a day when everybody knows someone who has survived pancreas cancer." – Nicholas Nissen, MD, a pancreatic cancer surgeon and director of Liver Transplant and Hepatobiliary & Pancreatic Surgery at Cedars-Sinai Medical Center in Los Angeles as well as a member of PanCAN's Scientific & Medical Advisory Board 
Share a moment
that has mattered in your pancreatic cancer journey. Post it on your social network using #MomentsMatter.