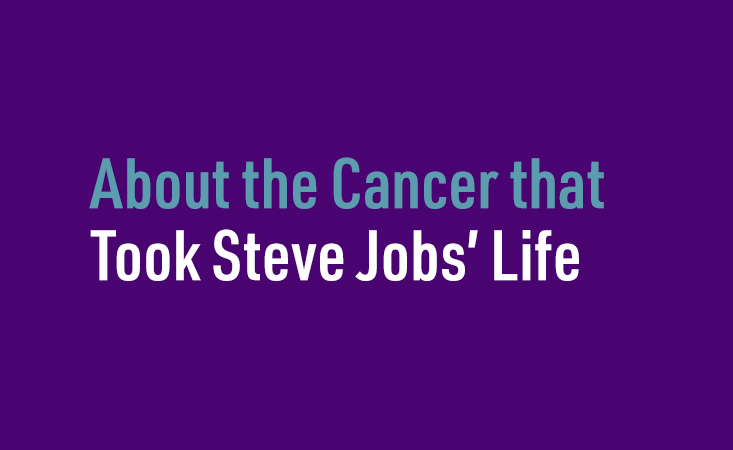 Editor's note: It's been 12 years since the passing of Steve Jobs. This blog, published two years ago, discusses the rare form of pancreatic cancer Jobs had, pancreatic neuroendocrine tumor.
It's been 10 years since legendary Apple Inc., Co-founder Steve Jobs passed away at only 56 years old after battling pancreatic neuroendocrine tumor, a rare form of pancreatic cancer.
Pancreatic neuroendocrine tumors (or PNETs) account for less than 10% of all pancreatic cancer tumors and tend to grow slower than exocrine tumors, the most common type of pancreas tumors. Jobs survived eight years before dying of the disease on Oct. 5, 2011.
The five-year survival rate for pancreatic cancer is only 10%.
Since PNETs are so uncommon, treatment options are not yet well-defined. Currently, there is no standard of care or standard treatment for these types of tumors. Chemotherapy, radiation therapy, hormone therapy and targeted therapy are just some of the treatment options. Treatments depend on whether the cancer may be removed by surgery.

The Pancreatic Cancer Action Network (PanCAN) is the only organization attacking pancreatic cancer on all fronts: research and clinical initiatives, patient services and advocacy.
PanCAN Patient Services can provide pancreatic cancer patients and their loved ones with free information and resources on PNETs or anything else related to the disease to help them make more informed decisions. Our PanCAN Patient Services team provides caring, compassionate support, a shoulder to lean on and free disease and treatment information, as well as services and resources, to the pancreatic cancer community.
In addition to direct patient support, PanCAN also funds and conducts research to better understand, diagnose and treat all types of pancreatic cancer. Research progress made in the lab and clinic is necessary to help patients feel better and live longer.
A growing list of people in the public spotlight have faced pancreatic cancer, including tech innovators, entrepreneurs and influencers.
In addition, and connected to Jobs, Jef Raskin, developer of the Macintosh computer, passed away of pancreatic cancer in 2005. And, coincidentally, Dag Kittlaus, creator of Siri, which was acquired by Apple in 2010, was diagnosed with the same exact cancer that took the life of Jobs.
Donate today
to support PanCAN's vision to create a world in which every patient with pancreatic cancer will thrive.
If you or someone you know has been diagnosed with pancreatic cancer, contact PanCAN Patient Services at 877-272-6226.