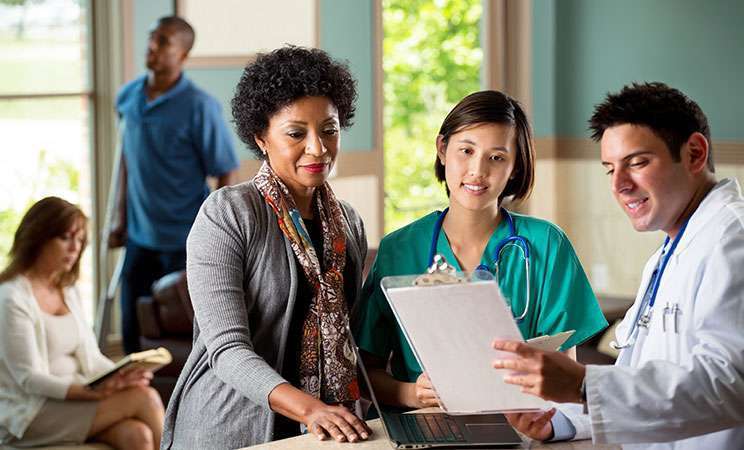 Clinical trials are developed to answer certain research questions. To get the right information to answer those questions, a trial follows a set of guidelines which are outlined in a research plan called a protocol.
The protocol is used to answer questions and protect the health of participants. It includes:
The reason for conducting the study
Who may participate in the study (the eligibility criteria)
The number of participants needed
The schedule of tests, procedures or drugs and their dosages
The length of the study
What information will be gathered about the participants
The protocol has enrollment rules, called eligibility criteria, to indicate who can participate in the study. Rules that allow a patient to participate are inclusion criteria, and rules that stop a patient from enrolling are exclusion criteria.
The purpose of these criteria is to enroll patients with enough in common to be able to tell if the treatment helped.
Eligibility criteria will change from trial to trial, but standard requirements usually consider:
All phases of clinical trials usually require a good level of physical functioning (known as performance status) and good major organ (liver, kidney, heart, etc.) function.
Each trial has its own unique set of criteria, and a patient will have to schedule a screening visit with the trial coordinator to understand the full set of enrollment rules.
During a screening visit, a member of the study, such as a trial nurse, will go over the full eligibility criteria and procedures, gather the patient's medical history, schedule any necessary tests and answer any questions.
Expanding Eligibility Criteria for Clinical Trials
Though eligibility criteria are important for clinical trials to operate successfully, the restrictions can impact patient access to new treatments and limit how applicable the trial results are to a larger population of patients.
To help expand patient access, these limitations are being addressed by organizations like the American Society of Clinical Oncology (ASCO) and Friends of Cancer Research, which are trying to broaden eligibility criteria to include more aspects of the patient population.
According to ASCO, "Eligibility criteria are necessary in clinical trials to define the patient population under study, isolate the potential effect of an investigational drug, and ensure that the trial is conducted safely.
"However, excessive or overly rigid eligibility criteria may impair the rate of trial accrual, restrict patient access to investigational drugs, and limit the ability to generalize the results to the broader population of patients who will ultimately use the drug."
ASCO and Friends of Cancer Research have working groups made up of patient advocates, drug and biotech manufacturers, investigators and regulators. They've already published recommendations to expand certain aspects of exclusion criteria, but are still working to do more.
In 2018, the National Cancer Institute (NCI) followed these recommendations and expanded their eligibility criteria for NCI-funded cancer clinical trials.
An article published in Health IT Analytics quoted Jeff Abrams, MD, associate director of the Cancer Therapy Evaluation Program at NCI, stating, "The goal is to expand access to clinical trials and remove previous barriers for patients with pre-existing conditions, and we thank all those that participated in this important effort to expand access."
Other Enrollment Considerations for Patients
Patients should be familiar with eligibility criteria when considering enrollment in a trial, but there are also personal considerations to think about.
Will travel be an issue for you?
Clinical trials are conducted by doctors and institutions (hospitals, academic medical centers, cancer centers, community hospitals) throughout the country. Depending on the trial, it may take place at only one institution or multiple institutions.
It's important to consider how much travel will be needed to participate in a trial. A patient will also need to understand how often this travel will need to happen based on treatment schedules, appointments with the medical team and follow-up care.
What do the risks and benefits of the trial mean for you?
There are many potential benefits to participating in a clinical trial like access to treatments that are better than currently approved care, being seen by top doctors and researchers in leading healthcare facilities and helping to advance treatment of the disease.
With benefits also come potential risks like the possibility of side effects, the chance a new treatment may not be more effective than currently approved treatments, extra healthcare appointments and costs associated with travel or insurance.
How could additional medical care impact you?
Receiving treatment as part of a clinical trial may require more testing and doctor visits than receiving treatment outside of a trial. Additionally, the medical team may continue follow-up care with participants after the trial ends.
For a clinical trial to produce valid results, it's essential for participants to follow the medical team's complete instructions, participate in all doctor visits and tests, take all medicines and therapies on time and complete all required logs or questionnaires.
There are many factors to think about when considering enrollment in a clinical trial.
Contact Patient Central
for more information about clinical trials, a personalized clinical trials search, questions to ask your doctor about clinical trials or for any other information about pancreatic cancer. You can also
request a free patient educational packet
, which includes an informational booklet on clinical trials.