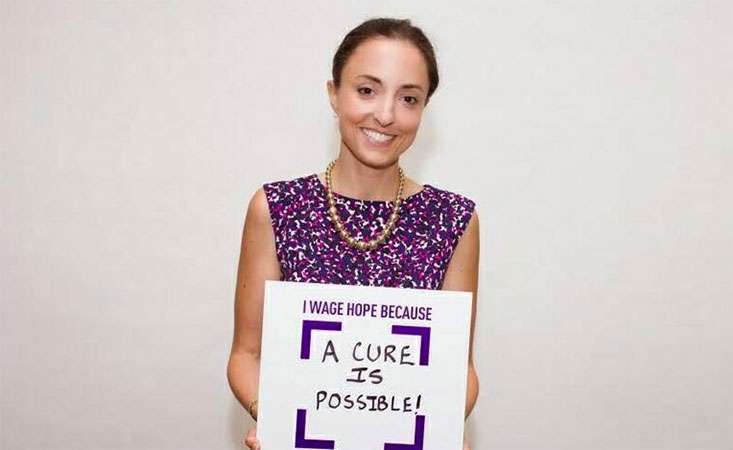 Editor's note: For each of us involved in the cause, it started with someone — the reason we were compelled to get involved with the Pancreatic Cancer Action Network (PanCAN) and change the story of pancreatic cancer. Amy Osteryoung's "someone" is her father-in-law, John Carnaghi. Below, she shares her story.
John Carnaghi, a healthy man, who loved playing golf, spending time with family, traveling and working, was diagnosed with pancreatic cancer in 2012, after what was thought to be a Hepatitis C diagnosis.
Knowing very little about the disease, other than it was very deadly, Amy Osteryoung was encouraged by her father-in-law to take actionable steps to help him fight.
"When John was diagnosed, he urged me to take proactive steps and get him enrolled in a clinical trial. I was in denial that his time left was to be measured in days and weeks versus years. He motivated me to get involved as well as educated and pushed me to get through the fog of fear."
After doing her own research online, it appeared that there was little hope for a person diagnosed with pancreatic cancer. Osteryoung found the Pancreatic Cancer Action Network online in a web search and immediately sent them an email.
"I'm not sure what I was expecting," Osteryoung said. "I could not sit around and do nothing. It's not in my nature to sit around and have life impact me. I wanted to make a difference. I wanted to be an example to my son to take charge and make a difference in any way you can. Within a day, a PanCAN representative called me and asked me to help with the Jacksonville Affiliate. Because I'm a lawyer, it was a natural fit to take on the advocacy role. A few months later, our family was on a plane headed to Washington, D.C., to lobby Congress."
At her first Advocacy Day in the nation's capital, Osteryoung felt empowered explaining to elected officials who John was and how devastating it was to lose him.
"To put a face to our funding asks and to have in-person visits with members of Congress and the people making decisions on funding was incredibly effective," said Osteryoung.
Osteryoung's father-in-law remains her inspiration for fighting this disease. She keeps his spirit alive through her volunteer work and specifically sharing her story at Advocacy Day every year.
"I've been asked by some people what I hope to gain from my involvement. I tell them it's a terribly helpless feeling to have a loved one get such a severe diagnosis, and you can't do anything to stop their disease.
"Even though we couldn't save him, staying involved keeps his spirit alive. I feel his presence every time a survivor hugs me, every time a family member tells their story. It is my salvation that someday a family won't have to view a pancreatic cancer diagnosis as a death sentence.
"I've also been asked why we as a family go back year after year. The answer is simple. We are a consistent voice and seeing our faces every year is a constant reminder that we as an organization are not going anywhere. We will continue to Wage Hope for those who are currently battling the disease, those who will be diagnosed and those who are no longer with us.'
When asked how her role as an advocacy chair makes an impact on the PanCAN mission, Osteryoung expressed:
"As an advocacy chair and state leader for Florida, I view my job as getting as many people as I possibly can to come to Washington, D.C., for Advocacy Day and meet with their local legislators. I also want to make sure their experience is impactful and meaningful to inspire them to come back the following year. Our numbers in Florida have grown steadily over the last five years, and we are now consistently bringing 40-50 advocates from the Sunshine State.
"Our only agenda is raising awareness and increasing pancreatic cancer funding. By telling our personal stories it's hard to ignore us. The survivors are our face, and I really encourage survivors to come to D.C. They are in the fight of their lives, and I want the legislative staff to see their faces. It's a lot harder to tell us no when facing survivors and children. I consider both our secret weapons."
Are you inspired by this story? You can make a difference, too.
Get involved
today!