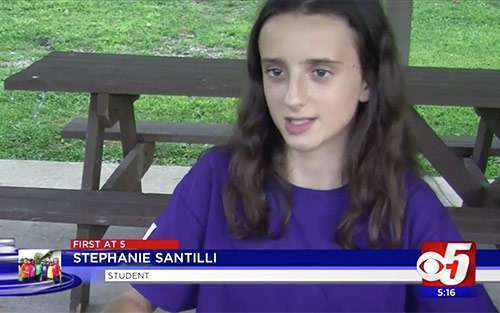 Stephanie Santilli is in eighth grade, and for most of her young life, she has been an advocate for more pancreatic cancer awareness and research funding. Her uncle – her "someone" – died of the disease when she was 3, and she and her mother, Annette, have been passionate volunteers in the years since.
This past June, the two were among hundreds who traveled to National Pancreatic Cancer Advocacy Day in Washington, D.C., to advocate for more pancreatic cancer research funding. It was their fifth year going together.
Santilli has also participated in the cause in other ways.
One example: She recently participated in the Voices of Hope audio interview project started by a fellow youth volunteer, Eric Doppelt. The project connects young people and pancreatic cancer survivors, and they ask each other questions about their respective experiences with the disease.
Given Santilli's passionate involvement, it was no surprise when, earlier this month, her local TV news station in West Virginia – WDTV – was interested in learning more about her story and her commitment to the cause. They reached out, interviewed her, and aired her story on the news.
"Getting involved in your community and volunteering, or joining 4-H or running for student council, those are all things you can do to make a change," Santilli said during the interview.
She is also vice president of her eighth grade class and volunteers in numerous other ways in her community and at school.
Do you have a "someone?" If so, join Santilli and thousands like her, and get involved locally today.