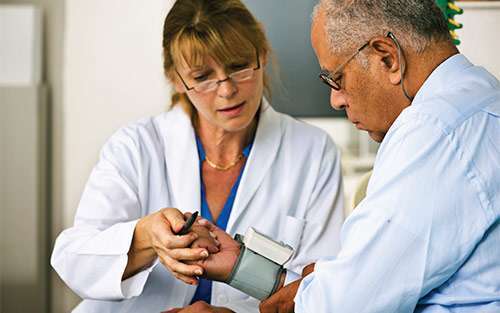 Published in the Journal of Gastrointestinal Cancer, a recent survey of 150 oncologists showed a lack of compliance with evidence-based recommendations and guidelines for the treatment of pancreatic cancer.
The U.S.-based oncologists surveyed were presented with three case studies of patients with different stages of diagnosed or suspected pancreatic ductal adenocarcinoma (the most common type of pancreatic cancer). The doctors were then asked to choose among multiple-choice answers to determine next steps to manage the patients.
Based on evidence in the literature and formal recommendations provided by the National Comprehensive Cancer Network (NCCN) and the American Society of Clinical Oncology (ASCO), the researchers identified significant gaps in education and adherence to the published guidelines.
Seeing pancreatic cancer specialists, physicians who diagnose and treat a high volume of pancreatic cancer patients, improves outcomes. The Pancreatic Cancer Action Network (PanCAN) strongly recommends you consult with pancreatic cancer specialists who have experience diagnosing and treating the disease.
"This study underscores the importance of patients seeing oncologists who have considerable experience treating pancreatic cancer and knowledge and education about the disease," said Lynn Matrisian, PhD, MBA, chief science officer at PanCAN. "It also reveals the importance of continuing medical education (CME) opportunities to enhance physicians' familiarity with the world's toughest cancer."
In addition, the authors noted that only 5 percent of survey respondents recommended clinical trials for any of the patients described in the case studies. This aligns with analyses of the clinical trial landscape published by PanCAN and reinforces the organization's strategic goal to increase enrollment in clinical trials.
Pancreatic cancer patients who participate in clinical research have better outcomes. Every treatment available today was approved through a clinical trial. The Pancreatic Cancer Action Network strongly recommends clinical trials at diagnosis and during every treatment decision.
Matrisian added: "We commend the authors for undertaking and analyzing this survey and reporting the results to the community. Pancreatic cancer is a relatively rare – but particularly challenging – diagnosis, so it's especially important for oncologists and other healthcare professionals to be aware of evidence-based recommendations, opportunities for education and the option of clinical trials."
To locate specialists who treat a high volume of pancreatic cancer patients, or for any other inquiries about the diagnosis or treatment of the disease, please contact PanCAN Patient Services.