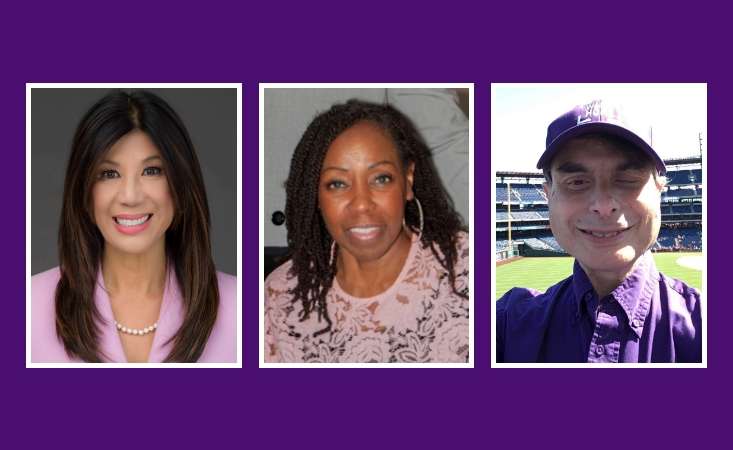 PanCAN is pleased to welcome three new members to its Survivor Council. Together, they bring a range of experience and expertise to the 11-member council, which was established in 2016 to ensure the voices of pancreatic cancer survivors are integrated into the organization's programs and initiatives.
The new members include Anggie Becorest, G. Paris Johnson and Clayton Mansfield. They join members Anne Shimabukuro, Diane Schooley-Pettis, John Walmsley, Lisa Beckendorf, Nick Pifani, Randi Ervin, Ray Shupe and Sandra Mack.
"PanCAN's Survivor Council is critical to fulfilling our mission," said PanCAN President and CEO Julie Fleshman, JD, MBA. "They help make sure our initiatives are grounded in the experiences of survivors and their families – from our research and advocacy efforts to all of the services our Patient Services team provides. We are thrilled to welcome our three new council members to this group, and to hear more about their valuable insights and perspective."
A 26-year pancreatic cancer survivor, Anggie Becorest has served on the PanCAN Volunteer Advisory Council, held positions as the PanCAN San Diego Affiliate Chair and the Sponsorship Chair and helps to mentor new volunteers. Through volunteering with PanCAN for the past nine years and by joining the Survivor Council, she seeks to inspire "hope for those newly diagnosed."
A devoted advocate for PanCAN, Clayton Mansfield has a long history of lobbying Congress for research funding during PanCAN's annual Advocacy Week in Washington, D.C. The Connecticut resident is especially passionate about more research for early detection methods and new treatment options.
"I'm looking forward to strengthening the voice of survivors in our cause to eliminate this dreaded disease," Clayton said.
A native of West Philadelphia, G. Paris Johnson has been involved with the PanCAN Philadelphia Affiliate in a number of ways, including serving as Outreach Chair, a role that has allowed her to expand PanCAN's reach in the community. She first became involved with PanCAN in 2014 – more than 10 years after her own diagnosis – after learning about PanCAN PurpleStride. She's still an enthusiastic participant and is excited about the many lives she gets to impact through her work with PanCAN.
The newly elected members will serve on the Survivor Council from July 2022 to June 2025.

Join PanCAN's nationwide grassroots movement by becoming a
volunteer
.