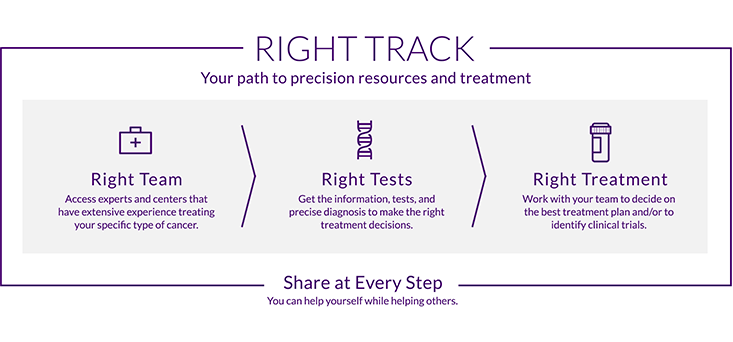 Last summer, the Pancreatic Cancer Action Network (PanCAN) shared exciting news about its role in the Harvard Business School's Kraft Precision Medicine Accelerator.
The Accelerator is working to eliminate inefficiencies in precision medicine development to get targeted therapies to patients faster.
Last year, five leading cancer organizations worked with prominent direct-to-consumer enterprises to develop strategies that can be implemented by the cancer community. The goal of these strategies is to engage and educate patients about precision medicine and the need for genetic testing. They've now launched their first model: Right Track.
The Right Track model focuses on key steps any cancer patient should take to ensure the best treatment outcome. For pancreatic cancer patients, specifically, this means –
Right Team: See a Specialist to Improve Your Outcome
Seeing pancreatic cancer specialists, physicians who diagnose and treat a high volume of pancreatic cancer patients, improves outcomes. PanCAN strongly recommends you consult with pancreatic cancer specialists who have experience diagnosing and treating the disease.
Right Tests: Know All Your Treatment Options
Every pancreatic tumor is different. PanCAN strongly recommends molecular profiling of your tumor to help determine the best treatment options.
Right Treatment: Consider Clinical Trials at Every Treatment Decision
Pancreatic cancer patients who participate in clinical research have better outcomes. Every treatment available today was approved through a clinical trial. PanCAN strongly recommends clinical trials at diagnosis and during every treatment decision.
You can accelerate research and help others by sharing your experiences at every step. One way to contribute to research is through our Patient Registry – a database to look for patterns in treatments, side effect management and diagnostics that will lead to improved outcomes for patients.
PanCAN's PanCAN Patient Services is the first place to call after a diagnosis of pancreatic cancer or at any point in your journey. PanCAN Patient Services Case Managers can help provide information for any question you have about pancreatic cancer. A Case Manager can also help you navigate the most critical decisions you'll need to make. Contact a Case Manager today.