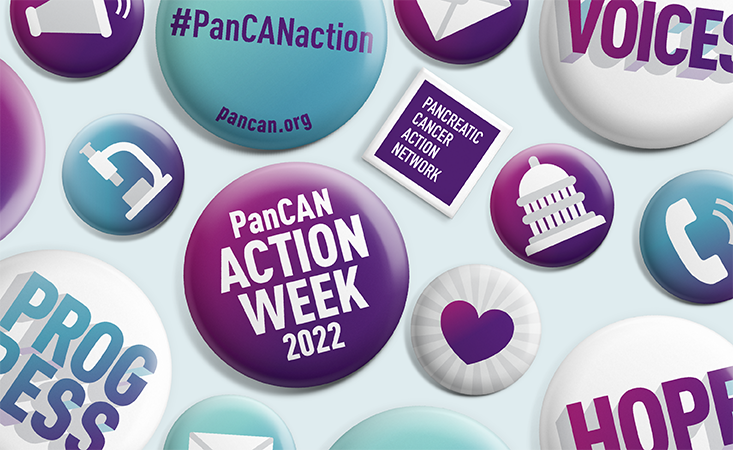 It's PanCAN Action Week! Time to join advocates from all over the country in sending a powerful and unified message to Congress. That message? That funding pancreatic cancer research must be a national priority.
PanCAN Action Week kicks off Monday, June 13, with "Voices in Action," our inspiring, free virtual event that will show you how your advocacy, including sharing your story with your members of Congress, makes a difference for pancreatic cancer patients.
Hosted by PanCAN President and CEO Julie Fleshman, JD, MBA, and featuring Congresswoman Anna Eshoo of California; a federally funded pancreatic cancer researcher; and your fellow advocates, including Lisa Niemi Swayze, who lost her husband Patrick to pancreatic cancer, you don't want to miss it. RSVP for "Voices in Action."
After "Voices in Action," you can call, email and tweet at your members of Congress during PanCAN Action Week. We're making it easy to do so with step-by-step instructions.
You'll ask that Congress:
Increase the investment in the Pancreatic Cancer Research Program at the Department of Defense from $15 million to $20 million to support pancreatic cancer research
Invest $49 billion for the National Institutes of Health, including $7.76 billion for the National Cancer Institute
Join the Congressional Caucus on the Deadliest Cancers to support the community and raise awareness in Congress for cancers taking the most American lives
Increased research funding is critical to our vision of creating a world where pancreatic cancer patients don't just survive – they thrive.
And we can't urge Congress to increase federal funding without you! Get involved in advocacy now, during PanCAN Action Week, starting with "Voices in Action."
We're bringing Washington D.C., to you! Join us for Voices in Action, the virtual kickoff to PanCAN Action Week 2022, taking place on Monday, June 13, at 2 p.m. ET / 11 a.m. PT.
RSVP today
.