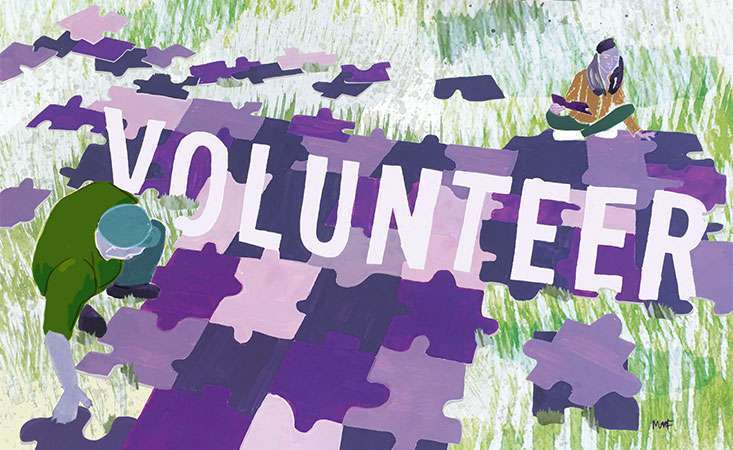 When it comes to putting together a jigsaw puzzle, the compilation of pieces forms the big picture. Each piece must fit together to create a satisfying whole and if even one element is missing, the puzzle is incomplete.
That's why the Pancreatic Cancer Action Network (PanCAN) has this to say to the volunteers who help make our organization complete:
"You're an important piece of our PanCAN team! We are so grateful for your support as we Demand Better. For Patients. For Survival."

Volunteers dedicate their time and skills to help PanCAN fight the world's toughest cancer and double survival by 2020. They can be found hosting trivia night fundraisers, planning PurpleStride events and raising awareness on Capitol Hill for increased federal funding to fight this disease. Those who serve on the Volunteer Advisory Council and Survivor Council help PanCAN make important decisions that shape research, clinical initiatives, patient services and advocacy.
"Just like it's impossible to have a complete puzzle with one missing piece, it's unimaginable to have a successful PanCAN community without our dedicated volunteers," said Julie Fleshman, JD, MBA, PanCAN's president, CEO and very first volunteer. "We value the work our volunteers do every single day, and this April, Volunteer Appreciation Month, we want to highlight some of their many achievements."
58: the number of volunteer affiliates across the nation that raise awareness about pancreatic cancer and the services PanCAN provides
600: total number of supporters from all 50 states who attended Advocacy Day 2017
79,200: the total participants coast-to-coast that volunteers recruited for PurpleStride
125,000: total volunteer hours spent to increase awareness of the disease
$11.8 million: the amount of revenue generated through volunteer-driven events like PurpleStride
"Our volunteers, who pitch in to help from all corners of the country, are proof that every action – big or small – helps complete PanCAN," Fleshman said. "Simply put – we would not be able to make advancements in pancreatic cancer without all our volunteers. For that, we are forever grateful."