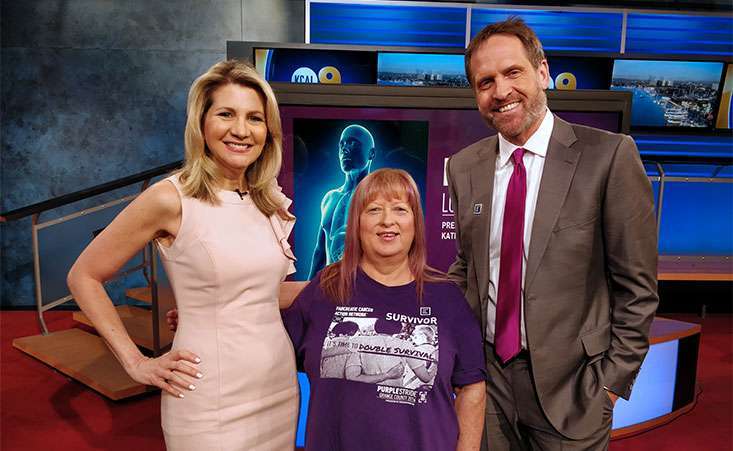 Roberta Luna considers herself a courageous woman. After all, she's a pancreatic cancer survivor who regularly skydives to bring awareness to the Pancreatic Cancer Action Network (PanCAN). Now Luna can add another item to her list of tackled fears – live TV.
"The interview was important not so much to conquer any fears but more to bring much needed awareness," said Luna, a volunteer from PanCAN's Orange County affiliate. "It's always hard when we lose a loved one to this disease, but it's getting harder. Even though the survivor rate has slightly risen, we are still losing to many mothers, fathers, sons, daughters, sisters, brothers, grandmothers, grandfathers and so on. Today's survivorship of just 9 percent which is unacceptable."
Luna appeared with Nicholas Nissen, MD, on KCAL, the CBS station in Los Angeles, Calif. on April 26. The pair talked to news anchor Sandra Mitchell about all things pancreatic cancer – from the warning signs of the disease to treatment options and even how PanCAN plays an important role in improving patient outcomes.
They also discussed turning "the City of Angels" purple as more than 1,000 participants get ready to lace up their sneakers for PurpleStride Los Angeles, the walk to end pancreatic cancer.
"One of PanCAN's urgent missions is to detect pancreatic cancer at an earlier stage so that one day we can have more Robertas," Nissen explained. "There are 55 of these PurpleStride events across the country. It is how PanCAN raises the funds it needs for research, to advocate, and even to push legislation through for pancreatic cancer."
Luna, who was diagnosed with pancreatic cancer in 2002, lost her mother, father, uncle and grandmother to the disease. She said she uses opportunities like the one at KCAL to help spread awareness.
"PurpleStride is important because it gives us the opportunity to reach out to survivors and caregivers, hopefully to inspire them and encourage them to not lose hope," said Luna. "It gives us a chance to bring awareness, to let those affected know that PanCAN has the resources to give us a fighting chance and that we don't have to fight alone. It also give us the opportunity to raise much needed funds to double survivors."
Nissen, the director of pancreatic surgery at Cedars-Sinai Medical Center and member of the Scientific and Medical Advisory Board, highlighted the importance of PurpleStride when it comes to raising critical funding for pancreatic cancer awareness, research, advocacy and patient and caregiver support programs.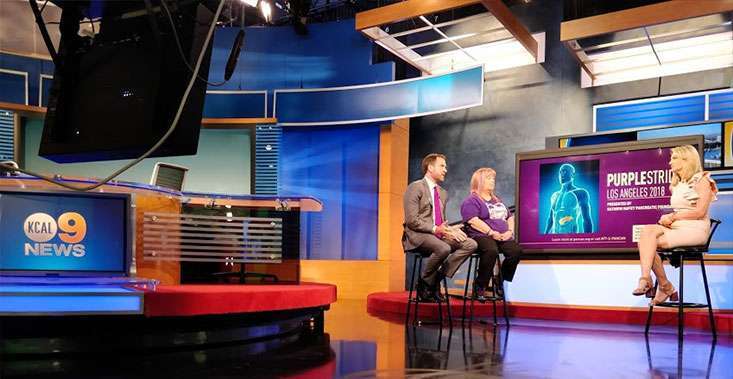 The trio talks all-things pancreatic cancer during the interview.
Volunteers like Luna and Nissen are the driving force behind more than 50 PurpleStride events each year, which contribute millions of dollars that support programs like Precision PromiseSM, Know Your Tumor® and the Patient Registry.
Watch the full interview with Roberta Luna and Dr. Nicholas Nissen here.
PurpleStride isn't the only thing we do, but everything we do depends on it. Register or donate to an event near you today at purplestride.org.