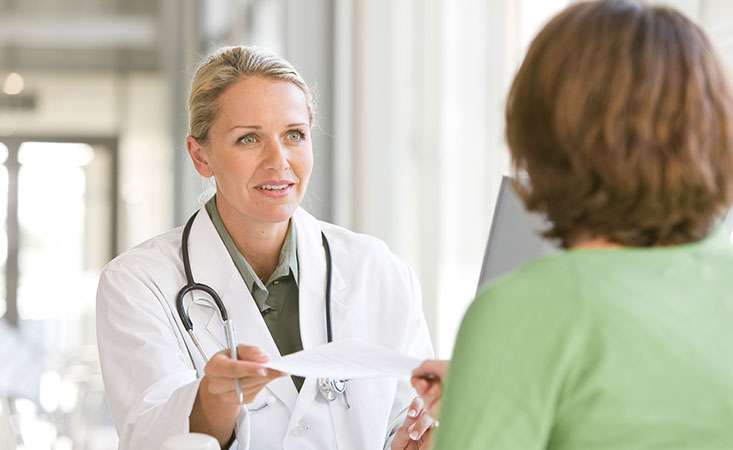 "I was 7 years old when my dad's mom, Gertrud, was diagnosed with breast cancer," began Pamela Munster, MD, a professor of medicine in hematology/oncology at University of California, San Francisco, in a powerful article published Friday, Sept. 28, in The Wall Street Journal.
Munster's grandmother was cured of her breast cancer but died 20 years later – of pancreatic cancer. It was after Munster received her own breast cancer diagnosis that the family learned of their BRCA2 mutation. She underwent a double mastectomy in 2012 and is healthy today.
The BRCA genes are best known for their connection to breast and ovarian cancer, but mutations can also lead to increased risk for pancreatic, prostate and other cancer types. And BRCA mutations don't only impact women.
"Life had barely returned to normal when, during one of our weekly calls, my father mentioned that he was having a bit of stomach trouble," Munster wrote.
"My mind went directly to pancreatic cancer."
Despite acting upon his symptoms right away, Munster's father was not initially a candidate for surgery to remove his pancreatic tumor.
However, as an oncologist, Munster was aware of growing evidence that patients with BRCA1 or 2 mutations respond particularly well to certain types of chemotherapy.
Indeed, Munster's father responded to the chemotherapy, and his tumor shrunk enough to be surgically removed.
Munster described this as, "a battle won not only for my dad but for many other patients who will benefit from more awareness of these links."
Today, it is well established that patients with BRCA-mutant cancer can be especially responsive to certain types of chemotherapy. And, a newer category of drugs, called PARP inhibitors, are also showing strong effectiveness in patients with these genetic alterations.
Utilizing information about a patient's tumor's genetic and molecular features to select treatment options is called precision medicine, and it's the basis for the Pancreatic Cancer Action Network's (PanCAN) Know Your Tumor® service.
There are different types of genetic and molecular tests that can reveal changes that occur in a patient's germline, meaning that they are born with the alteration and can pass it on to their children, and changes that only occur in the cancer cells themselves, called somatic alterations.
Knowledge about germline changes is important to determine a person and their family members' risk for eventually developing certain types of cancer. And both somatic and germline mutations can influence the best treatment options for someone with pancreatic cancer.
Know Your Tumor can provide patients and their healthcare professionals with information about both their germline and somatic alterations – and a personalized list of treatment options, including approved drugs, off-label medications (those that have been approved for other cancer types and shown promise in pancreatic cancer) and clinical trials.
"I am lucky to have had many more years with my father since his diagnosis," Munster wrote, "and this gift has confirmed my belief that there is always hope for something new to alter our fates in dealing with cancer."
If you have questions about assessing pancreatic cancer risk, treatment options or Know Your Tumor,
contact Patient Central
.