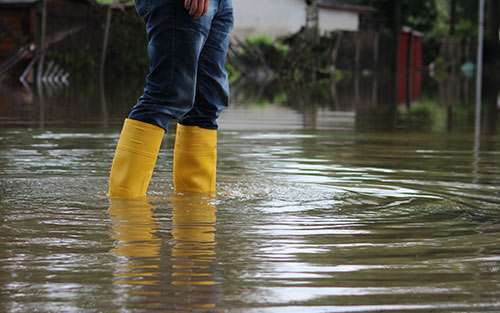 Given the recent devastation of Hurricane Harvey and other similar natural disasters, it's not a surprise that these events can cause immense financial, physical and emotional strain to all involved. For those who are also dealing with a life-altering illness like pancreatic cancer, additional major concerns can include canceled appointments, delayed treatments, travel restrictions and other factors.
Andrew Rhim, MD, is an assistant professor of gastroenterology at MD Anderson Cancer Center in Houston and a PanCAN grantee, and he is at the epicenter of Hurricane Harvey. Rhim was able to safely get to the hospital and relieve some of the "ride-out" physicians and support patients. Rhim provided five invaluable coping tips for pancreatic cancer patients who may be experiencing the stress of a natural disaster:
The number one priority is to make sure you and your family are safe in the short term. Follow all orders by authorities.
Make sure all contact information, and especially cell phone numbers and email, are updated on the hospital database. Also make sure that your healthcare professionals have additional cell phone numbers from family members in case your cell phone goes down.
Always have your medical records accessible in case you need to seek treatment elsewhere. This should include a list of medications, other diseases and medical problems, drug allergies and history of cancer treatments (including when your last treatment was, etc.).
When a possible disaster comes, be prepared. Pack a bag with your medications, clothes and cash. You can always unpack the bag if you don't need it.
Try to make sure your cell phone, voicemail and email are accessible and are checked every day in case the hospital tries to contact you.
Rhim went on to explain that patients who are admitted to a well-prepared hospital during a disaster should try not to worry. "For example, at MD Anderson, we have disaster plans in place to make sure that doctors, nurses, technicians, clerks, custodial staff, food workers, security and others are in the hospital for the duration of a disaster," he added.
For those receiving outpatient care, it's realistic to expect delays in treatment schedules. However, in most cases, those delays are not enough to significantly affect treatment schedules.
Above all, Rhim explained that in tough times people will band together and help each other weather the storm.
"Speaking on behalf of my fellow physicians and healthcare professionals, we will work as hard as we can to get our patients through this. We can empathize, but not fully understand, what you are going through, and we are ready to help."
Additionally, the American Cancer Society outlines specific information about coping with cancer after a natural disaster; answering questions about how to access treatments, get medications, deal with loss of medical records and more crucial information.
Patients' treatments may be affected by this storm. Try to get in touch with your healthcare team for advice on how to proceed with your treatments, including rescheduling or receiving them elsewhere. Know that it is okay to miss treatments for a short time if you cannot get in touch with your doctor immediately. In the meantime, continue to take any self-administered medications as prescribed.
If you have evacuated to an area away from your normal treatment facility, our PanCAN Patient Services Case Managers can help you locate another doctor in your current area.
For resources and information to help patients and caregivers cope with all aspects of a pancreatic cancer diagnosis, contact PanCAN Patient Services.